Public Opinion on Gender Rating
With the Republican presidential primaries wrapping up, a barrage of new television commercials, radio ads, and fundraising emails has marked the start of the general election campaign. The Affordable Care Act (ACA) continues to be a mainstay election topic for candidates from both major parties. While Republicans focus on advocating repeal of the 2010 health care law, President Barack Obama and the Democratic Party have concentrated on the benefits of the law. And one lesser known provision of the ACA has received top billing in several of their campaign materials: the elimination of gender rating for health insurance premiums.
Gender rating refers to the practice of charging women higher health insurance premiums than men. With the exception of states that already prohibit or limit gender rating, women are frequently charged higher premiums because they require health care services that men do not need, like regular gynecological visits and maternity care. The ACA will eliminate this insurance practice by 2014. This blog post looks into Americans' views of this provision, finding that the majority of Americans like the idea of getting rid of gender rating, but at the same time most aren't aware that the health reform law already has plans to do so.
Awareness Of Gender Rating Prohibition Is Low
In Kaiser's April Health Tracking Poll, roughly a third (35 percent) of Americans were aware that the health reform law prohibits insurance companies from charging women higher premiums than men, down from about half (48 percent) in June 2010, just three months after the ACA was signed into law. Although the provision directly impacts women, particularly those under the age of 50, women as a whole were no more likely than men to be familiar with it. Democrats were more likely than Republicans to be aware of this provision (43 percent versus 25 percent), but still fewer than half were familiar with its inclusion in the law.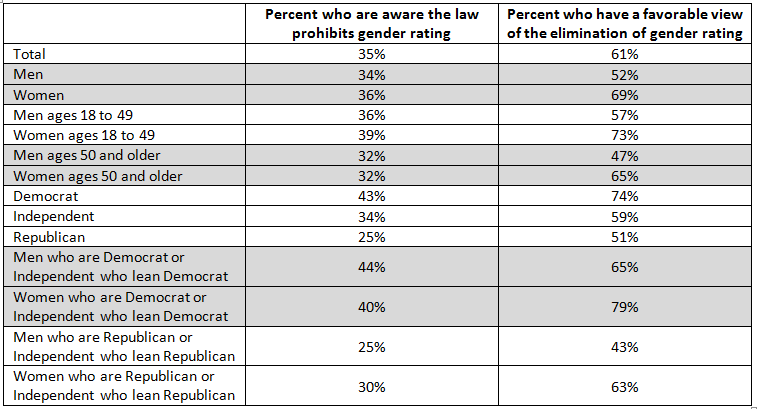 But, Favorability Of Provision Is High
While relatively few Americans are aware that the ACA includes the gender rating provision, many Americans like the idea of leveling the playing field for health insurance premiums. Overall, six in ten (61 percent) have a favorable view of this provision, a number that rises to seven in ten (69 percent) among women as a group, and about three-quarters among women under age 50 (73 percent of whom back it).
When it comes to the opposite sex, men as a whole are less supportive of the measure, with roughly half (52 percent) supporting it; though that number rises to 57 percent among younger men compared to 47 percent among their older counterparts.
As is true for public opinion on the law as a whole, there is a partisan gap on this provision, albeit a much smaller one. While the measure is overwhelmingly popular among Democrats (74 percent) and looked favorably upon by a solid majority of independents (59 percent), Republicans are a little less enthusiastic. But still, half (51 percent) of Republicans, the law's most fervent opponents, like that the law gets rid of gender rating. There is also a gender gap on the issue within the Republican party: nearly two-thirds (63 percent) of women who align themselves with the Republican party or lean Republican favor the gender rating prohibition, compared to fewer than half of Republican or Republican-leaning men (43 percent).