Consumer Choice in Health Care: How Could Reform Affect Our Choices? How Could We Make Better Choices?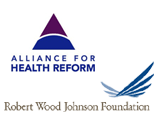 The Alliance for Health Reform and the Robert Wood Johnson Foundation co-sponsored this event which brought together nationally known health policy experts for a conversation on consumer choice in health care.
Panelists addressed the following questions: Why is choice of health care providers important? How much choice do we really have now? How much choice do we need? How might health reform affect our choices? In some instances, do we have too much choice? How could health information technology help us make more intelligent choices?
For more information, please visit the Alliance's event page.
Full version
Opening Remarks
Q and A
Please note: the video is no longer available. If you have an urgent need for the video, you may contact us (choose "problem with video" on the form) and we will try to locate the video. Include the URL for this page in your message to us.
For KFF reference:
/health_cast/player_kff.cfm?id=80
/health_cast/player_kff.cfm?id=81
/health_cast/player_kff.cfm?id=85
Speakers for this session:
Uwe Reinhardt
Health Economist at Princeton University
Joe Antos
Health Economist at the American Enterprise Institute for Public Policy Research in Washington, DC
Daniel Callahan
Medical Ethicist and cofounder of The Hastings Center in New York State
Tony Coelho
Congressman and Chair of the Partnership to Improve Patient Care