As the Trump Administration and Congress weigh policy options to address high prescription drug prices, a fourth of people taking prescription drugs (24%) and seniors taking drugs (23%) say it is difficult for them to afford their medications, the latest KFF Health Tracking Poll finds.
The groups most likely to report difficulties affording their medications include people with monthly drug costs of $100 or more (58%), in fair or poor health (49%), with annual incomes less than $40,000 (35%), or taking at least four drugs monthly (35%). Three in ten 50-64 year olds report problems affording drugs. This group takes more prescriptions on average than younger people but isn't old enough to qualify for Medicare and its drug benefit.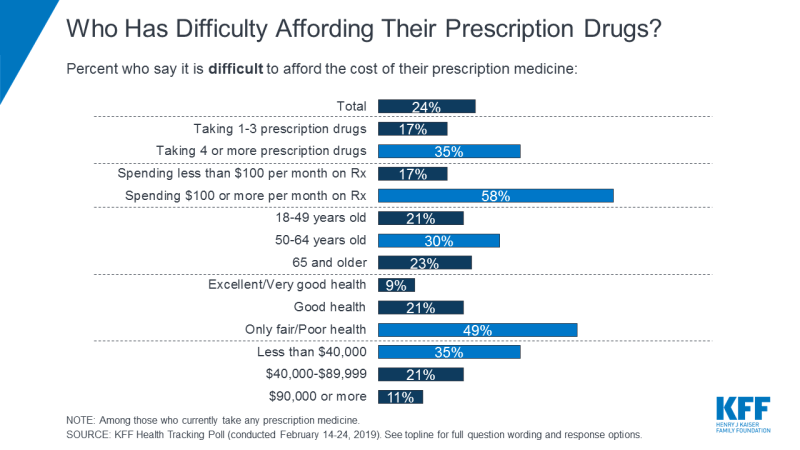 In addition to difficulty affording prescriptions, about three in ten (29%) of all adults report not taking their medicines as prescribed at some point in the past year because of the cost. This includes about one in five who say they didn't fill a prescription (19%) or took an over-the counter drug instead (18%), and about one in 10 (12%) who say they cut pills in half or skipped a dose. Three in ten of those who report not taking their medicines say their condition got worse as a result (8% of the public overall).
The poll also assesses the public's views of a range of proposed legislative and administration actions aimed at lowering drug costs.
Large majorities favor most of these options, including requiring drug companies to list prices in their ads (88%), making it easier for generic drugs to come to market (88%), allowing the federal government to negotiate with drug companies to get lower prices for people with Medicare (86%), and allowing Americans to buy drugs imported from Canada (80%). Each of these four options receive support from large majorities of Republicans, Democrats and independents.
Bi-partisan majorities support two other Medicare changes: placing an annual limit on out-of-pocket drug costs for Medicare beneficiaries (76% support, including 75% of Republicans) and lowering what Medicare pays based on prices in other countries (65%, including 54% of Republicans). Fewer support options that could limit Medicare beneficiaries' access to medications, such as allowing Medicare Part D drug plans to impose more restrictions on certain drugs' use (53%) or exclude more drugs (25%).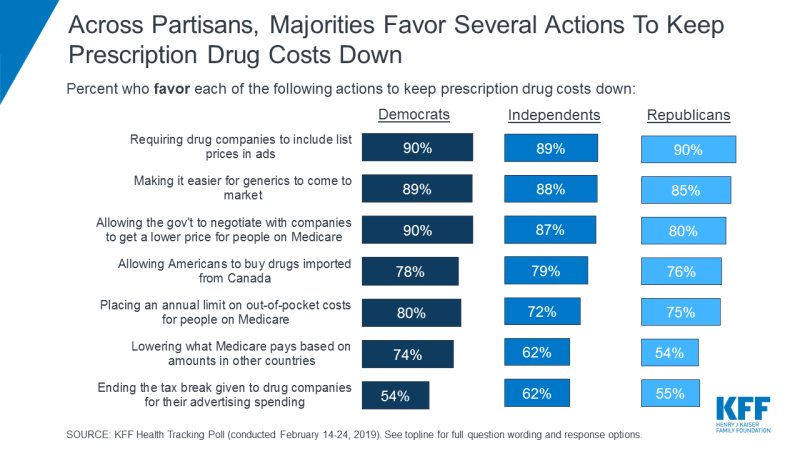 Among seniors, nearly all of whom are covered by Medicare, majorities support three Medicare policy changes: allowing the government to negotiate prices (82%), setting an out-of-pocket spending limit (68%), and setting prices based what people in other countries pay (60%). Fewer seniors support allowing Part D plans to place more restrictions on drugs' use (45%) or exclude more drugs (24%).
Arguments about Medicare Drug Price Negotiations Can Shift Many People's Views
This month's poll also tests a range of arguments for and against allowing the government to negotiate with drug companies to lower the prices Medicare beneficiaries pay.
As noted above, a large majority (86%) initially supports this policy change. The share in favor rises to 91 percent when opponents are told it could save seniors money on their drug.  The share in favor drops sharply when supporters hear opponents' potential arguments that it could lead to less research and development of new drugs (31% still favor while 66% oppose) or that Medicare might not cover some prescription drugs (29% still favor while 67% oppose).
Medicare-for-All Views Hold Steady
The poll finds the public's views toward a Medicare-for-all proposal, which would expand public coverage through a national insurance plan, holding steady this month amid heightened attention in Congress and among Democratic presidential candidates on the campaign trail. The poll finds 57 percent of the public support Medicare-for-all, statistically unchanged from January (56%).
Designed and analyzed by public opinion researchers at KFF, the poll was conducted Feb. 14-24, 2019 among a nationally representative random digit dial telephone sample of 1,440 adults, including an over-sample of adults, 65 and older (606). Interviews were conducted in English and Spanish by landline (464) and cell phone (976). The margin of sampling error is plus or minus 3 percentage points for the full sample and 5 percentage points for the over-sample. For results based on subgroups, the margin of sampling error may be higher.