When asked about a series of health care priorities facing President Trump and Congress, six in 10 Americans (60%) identify lowering the cost of prescription drugs as a "top priority" for President Trump and Congress – including majorities of Democrats, independents, and Republicans.
The latest Kaiser Health Tracking Survey examines the public's views on potential policies to address drug costs – and finds majority support for nine different potential actions.  This includes overwhelming support for allowing the federal government to negotiate with drug companies to get a lower price on medications for people on Medicare (92%), making it easier for generic drugs to come to market (87%), and requiring drug companies to release information to the public on how they set drug prices (86%). Other proposals with significant majority support include allowing Americans to buy prescription drugs imported from Canada (72%) or from online pharmacies based in Canada (64%).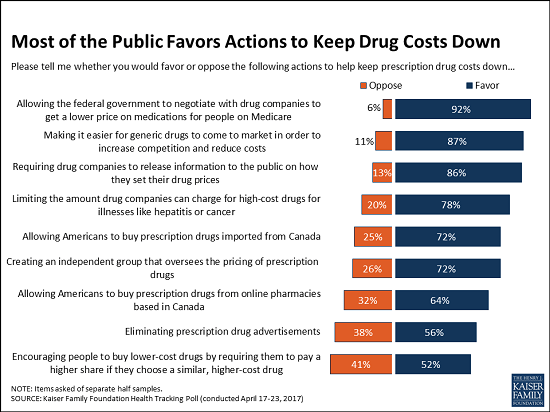 A majority of Republicans, Democrats, and independents favor eight of the nine specific policies.  The lone exception is encouraging people to buy lower-cost drugs by requiring them to pay a higher share if they choose a similar, higher-cost drug – favored by majorities of Republicans (57%) and independents (60%) but a smaller share of Democrats (40%).
The poll also probes more deeply into the public's views of how allowing Americans to import drugs from Canada or purchase drugs through online Canadian pharmacies would impact costs, quality and safety. Most think that each of these policy changes would make medicines more affordable without sacrificing safety or quality (76% say this about imported drugs; 68% say so about online pharmacy sales). Fewer say either change would expose Americans to unsafe medicines from other countries (35% and 39%, respectively) or lead U.S. drug companies to do less research and development (29% and 33%, respectively).
The findings come from the late April Kaiser Health Tracking Poll, designed and analyzed by public opinion researchers at the Kaiser Family Foundation and conducted from April 17- April 23 among a nationally representative random digit dial telephone sample of 1,171 adults. Interviews were conducted in English and Spanish by landline (421) and cell phone (750). The margin of sampling error is plus or minus 3 percentage points for the full sample. For results based on subgroups, the margin of sampling error may be higher.