Most Do Not Want the Supreme Court to Overturn the ACA or its Pre-Existing Conditions Protections
When it comes to tackling pressing health care issues, incremental actions to address personal health care costs take precedence over broader, more partisan reforms for most Americans, according to the latest KFF Health Tracking Poll.
As policymakers jockey over Medicare-for-all proposals and the legal and political fate of the Affordable Care Act, the public is more likely to choose lowering prescription drug costs (68%), continuing ACA protections for people with pre-existing conditions (64%) and softening the financial blow of surprise medical bills (50%) as top priorities for Congress. The April poll finds that fewer Americans say implementing a national Medicare-for-all plan (31%) or repealing and replacing the ACA (27%) should be a top priority.
Larger shares of Democrats say continuing the ACA's protections for people with pre-existing conditions (82%) and implementing a national Medicare-for-all plan (47%) are top priorities, while about half of Republicans (52%) say repealing and replacing the ACA is a top priority.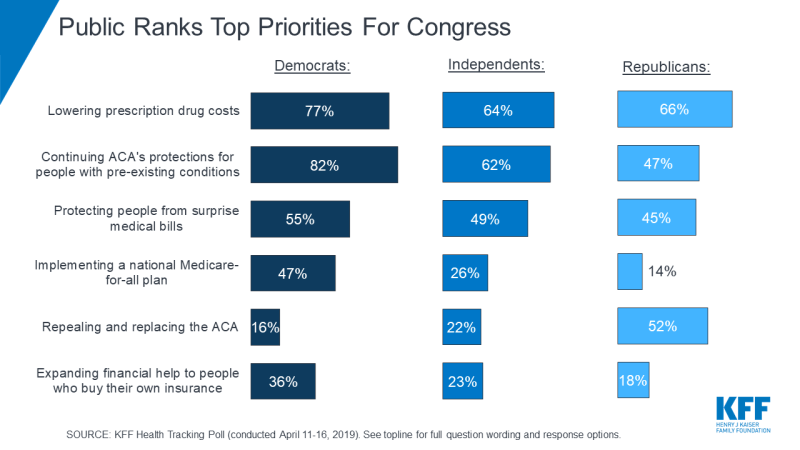 The April poll continues to find bipartisan support for the ACA's protections for people with pre-existing conditions. Seven in 10 Americans  say it is "very important" to them that the ACA provision that prohibits health insurance companies from denying coverage because of a person's medical history remains law. Similarly, two-thirds (64%) say it is "very important" that the provision that bars insurers from charging sick people higher premiums remains law. This includes half of Republicans who say it is "very important" that each provision remains law (54% and 51%, respectively).
The findings come at a time when President Trump has renewed his calls to repeal and replace the ACA and when his administration has sided with the Republican state attorneys general in Texas v. United States, a federal lawsuit that argues that the ACA is invalid and should be overturned. The poll finds that, if the Supreme Court eventually hears the case, most Americans do not want the justices to overturn the pre-existing condition protections (68%) or the entire law (54%). Majorities are worried that they may lose coverage or pay more for coverage.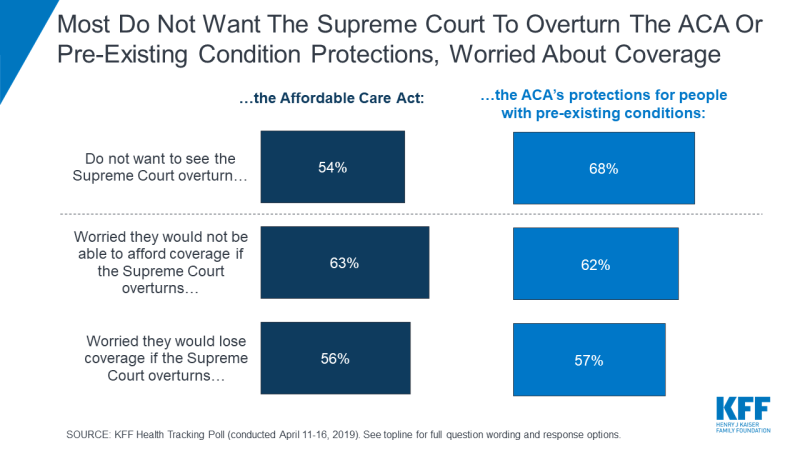 With both President Trump and Congress vowing to address the issue of surprise medical bills in recent weeks, the poll find that at least 3 in 4 Americans – including majorities of Democrats, independents and Republicans – say the federal government should protect patients from having to cover the higher costs that can arise when they are:
Taken to an emergency room by an out-of-network ambulance (78%);
Taken to an out-of-network emergency room during a medical emergency (78%); or
Treated at an in-network hospital by an out-of-network doctor or specialist (76%)
The poll finds there is no agreement about who should cover the bill, however, with the public split over whether both the health provider and the insurance company should absorb the cost (47%) or whether the insurer should cover it alone (43%). Few (5%) say the doctor should be solely responsible.
KFF polling continues to find that surprise medical bills affect a significant share of insured adults. About one in five of insured adults ages 18-64 say that in the past two years they or a family member have received a surprise medical bill resulting from receiving out-of-network care from a doctor, hospital or lab that they thought was covered.
Medicare-for-all Debate May Be Growing More Partisan
With proposals to expand public coverage drawing attention in Congress and in Democratic campaigns for the 2020 presidential election, views of "Medicare-for-all" may becoming more partisan.  While overall reactions to terms such as "universal health coverage" and "Medicare-for-all" have remained relatively unchanged since 2017, the poll shows an uptick in the share of Democrats who now say they have a "very positive" reaction to the term "Medicare-for-all," from 49 percent in 2017 to 58 percent. At the same time, half of Republicans (51 percent) now say they have a "very negative" reaction to the term compared to 42 percent in 2017.
Methodology
Designed and analyzed by public opinion researchers at KFF, the poll was conducted April 11-16, 2019 among a nationally representative random digit dial telephone sample of 1,203 adults. Interviews were conducted in English and Spanish by landline (301) and cell phone (902). The margin of sampling error is plus or minus 3 percentage points for the full sample. For results based on subgroups, the margin of sampling error may be higher.