Firearms were responsible for 20 percent of all child and teen deaths in the U.S. for both 2020 and 2021, compared to an average of less than 2 percent in similarly large and wealthy nations, according to a new KFF analysis. This puts the U.S. far ahead of peer nations in child and teen firearm deaths.
Data show that U.S. firearm deaths for children and teens again surpassed motor vehicle deaths – the second leading cause of death – and that the increase has been primarily driven by gun assault deaths.
On a per capita basis, the firearm mortality rate among children and teens in the U.S. is over 9.5 times the rate of Canada, the country with the second-highest child and teen firearm death rate. If firearm deaths in the U.S. had mirrored Canada's rates between 2010 and 2021, approximately 30,000 U.S. children and teenagers would still be alive.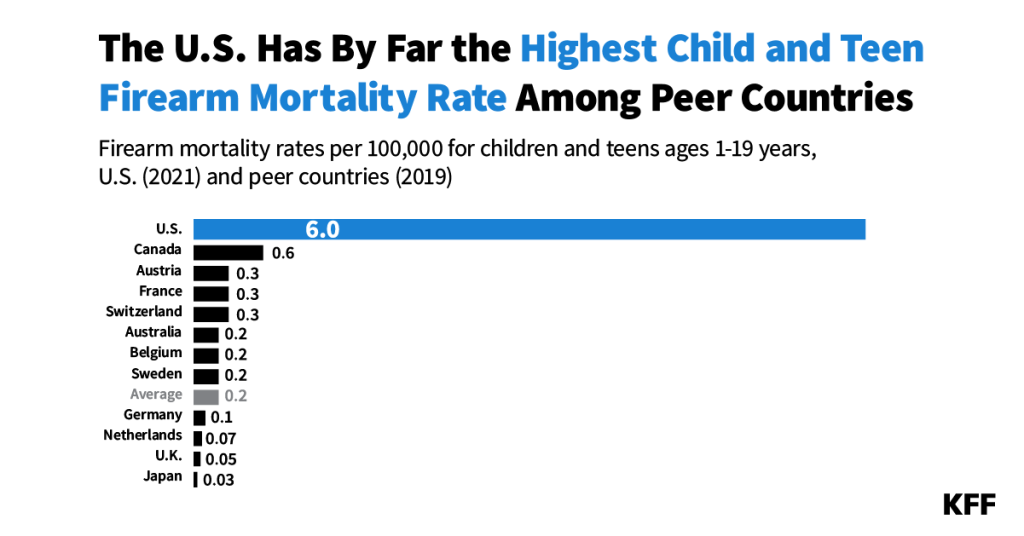 Even New York and New Jersey – the states with the lowest child and teen firearm mortality rates among those with available data – have rates that are over three times that of Canada. Among the 38 states with available data, Louisiana, Mississippi, and Alabama had the highest rates of firearm mortality for children and teens ages 1-19 years (17.6, 15.3, and 11.9 deaths per 100,000, respectively).
KFF's earlier analysis shows that exposure to firearms has important implications for mental health. Among adolescents, gun violence may lead to anxiety, post-traumatic stress disorder, and challenges with school performance, including increased absenteeism and difficulty concentrating