Long-Term Care Facilities Battled Rising COVID-19 Cases In Weeks Leading Up to Roll Out of Vaccines to Residents and Staff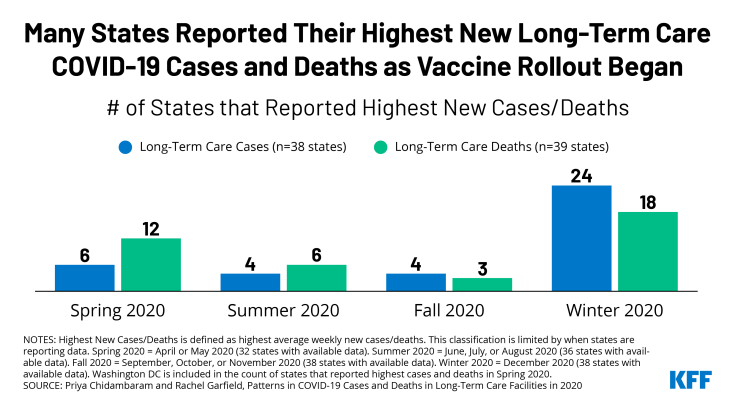 In recent months, the US has experienced record-breaking numbers of coronavirus cases and deaths. A new KFF analysis finds long-term care facility (LTCF) cases and deaths were highest in the final two months of 2020 in many states, mirroring the spike in total COVID-19 case numbers and deaths this winter. A separate KFF analysis of 30 studies published since the start of the pandemic finds increased community-level cases are associated with increased cases in long-term care facilities (LTCFs). The findings underscore the urgency to vaccinate residents and staff at LTCFs, who are included in phase 1a vaccination rollout that began in mid-December.
Approximately three-quarters of reporting states with trend-able data (28 of 38) experienced their highest average weekly number of new coronavirus cases in long-term care facilities in November or December 2020. Over half of reporting states (21 of 39 states) experienced their highest average weekly new COVID-19 deaths in long-term care facilities in the last two months of 2020, mostly in December. These trends align with the timing of when many states experienced their highest state-wide new cases and deaths. Early data from 2021 indicates that states are on track to surpass the record-high new cases and deaths from late 2020, indicating the true peak in long-term care cases and deaths has yet to come in some states.
Rising case numbers in LTCFs are particularly concerning, as these facilities bear a disproportionate burden of COVID-19 deaths. In recognition of their high-risk status, the Centers for Disease Control and Prevention (CDC) has recommended states include LTCF residents and staff in the highest priority group for vaccine distribution, a recommendation all states have followed. However, initial reports indicate slower-than-anticipated rollout, with some reports of high levels of vaccine hesitancy among LTCF staff members. Staff vaccine hesitancy was also a recurring theme in a recent KFF briefing, where experts discussed the LTCF vaccination effort and agreed that there were challenges to overcome. These delays will likely mean additional deaths due to COVID-19 in LTCFs.
Source