More than three years into the COVID-19 pandemic, about half (53%) the public says they would likely get an annual COVID-19 vaccine if offered similar to an annual flu shot, the latest KFF COVID-19 Vaccine Monitor finds. This includes about a third (32%) who would be "very likely" to do so.
The findings provide a window into the potential uptake of an annual COVID-19 vaccine, which the Food and Drug Administration has raised as a potential option to provide future protection from the virus.
Larger shares of people who typically get an annual flu shot (76%) say they are likely to get an annual COVID-19 vaccine than those who don't normally get a flu shot (26%).
Not surprisingly, the vast majority (81%) of people who are already vaccinated and boosted against COVID-19 say they would be likely to get an annual shot. About four in 10 (42%) of those who have been vaccinated but not boosted say they would at least somewhat likely get an annual shot, while about three-quarters (73%) of those who are unvaccinated or only partially vaccinated say are "not at all likely" to get an annual shot.
COVID-Free?
Nearly a third (32%) of all adults nationally say they have never tested positive for COVID-19 or never thought they've had the virus, and the new survey examines their experiences.

This never-had-it group includes nearly half (46%) of adults ages 65 and older, who generally had earlier access to the vaccines due to their high risks. A larger share of Democrats (36%) than Republicans (25%) say they've never gotten the COVID-19, while the shares are similar among those who were vaccinated (32%) and unvaccinated (29%).

Almost two thirds (64%) of those in the never-had-it group attribute their success in avoiding the virus to being careful and taking precautions, more than twice the share that say they were lucky (29%). In comparison, few (6%) believe it is because COVID-19 isn't really present in their area.
When asked to say in their own words the main reason why they think they haven't gotten COVID-19, about a quarter (24%) cite avoiding crowds or staying home. Other reasons include having a good immune system and generally being healthy (14%), wearing masks (11%), being vaccinated (10%), and generally being careful and taking precautions (10%). A small share (6%) say they believe it was good luck.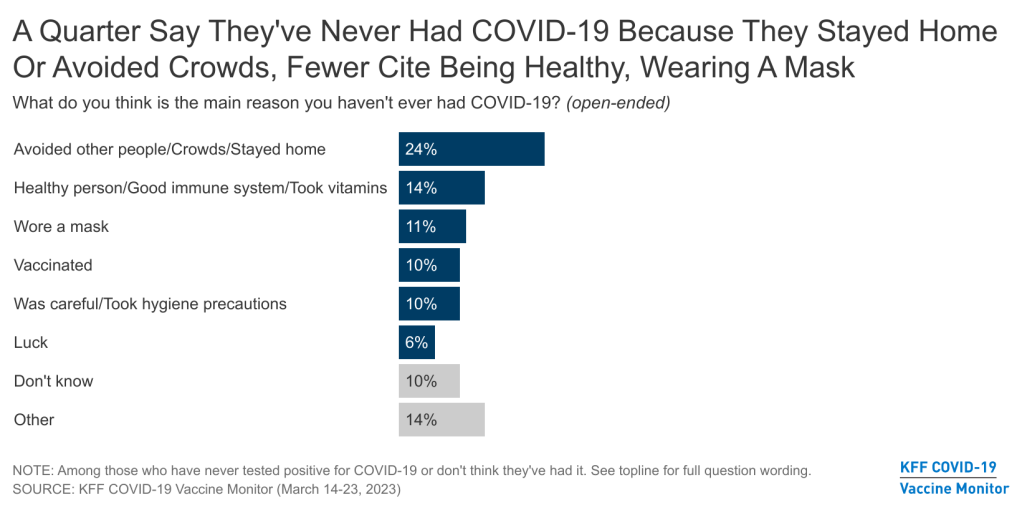 Other findings include:
Nearly a quarter (23%) of adults say they've gotten the latest bivalent COVID-19 booster, which has been available since September. Similar shares say they have received an earlier booster shot (25%) or have gotten their initial course of vaccinations but no booster (25%). That leaves slightly more than a quarter (27%) who say that they are either partially vaccinated or not vaccinated at all.
Half (49%) of adults say they've heard at least something about the Biden administration's plan to end the COVID-19 public health emergency on May 11.
Similar shares of the public say that the end of the public health emergency will have a positive (20%) or negative (21%) impact on them and their families, though most (59%) say that it will have no impact. Larger shares of Hispanic (33%) and Black (29%) adults, as well as those in low-income households (31%), say the emergency's end will hurt them and their families.
Designed and analyzed by public opinion researchers at KFF, the survey was conducted from March 14-23, 2023, online and by telephone among a nationally representative sample of 1,271 U.S. adults, in English and in Spanish. The margin of sampling error is plus or minus 3 percentage points for the full sample. For results based on other subgroups, the margin of sampling error may be higher.
The KFF COVID-19 Vaccine Monitor is an ongoing research project tracking the public's attitudes and experiences with COVID-19 vaccinations. Using a combination of surveys and qualitative research, this project tracks the dynamic nature of public opinion as vaccine development and distribution unfold, including vaccine confidence and acceptance, information needs, trusted messengers and messages, as well as the public's experiences with vaccination.