Private insurance companies are expecting to pay out a record of at least $1.3 billion in rebates to consumers this fall based on their share of premium revenues devoted to health care expenses in recent years, surpassing the previous record high of $1.1 billion in 2012, according to a new KFF analysis.
Individual market insurers are driving this record year, with expected rebate payments of at least $743.3 million, their highest ever, finds the analysis of data reported by insurers to the Centers for Medicare and Medicaid Services. Individual market insurers appear to have been exceptionally profitable in 2018, on average, which is part of the basis for this year's rebate payments. Rebates in the small and large group insurance markets are more similar to past years, at $250 million and $284 million, respectively.
The analysis also finds that millions of dollars in rebates from previous years have gone unclaimed by consumers — $37.5 million in the individual market, $22.2 million in the small group market and $11.6 million in the large group market.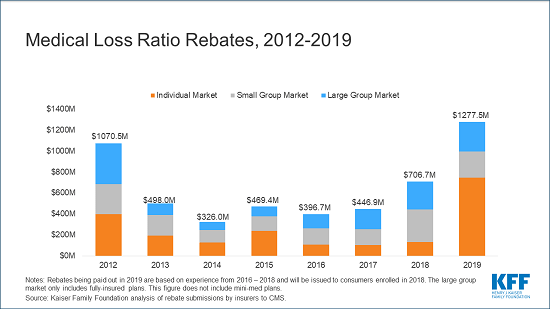 By law, insurers must begin issuing the latest rebates to eligible consumers by September 30. They are the result of insurance companies not meeting the Affordable Care Act's medical loss ratio threshold, which requires insurers to spend at least 80 percent of premium revenues (85% for large group plans) on health care claims or quality improvement activities.
Rebates will vary by state. The states with the largest expected rebates in total include Virginia ($149.6 million), Pennsylvania ($130 million) and Florida ($107.4 million). In an estimated 13 states insurers are expecting to pay no rebates at all.
In the individual market alone, insurers will pay out the highest rebates in Virginia ($111.3 million), followed by Arizona ($92.3 million) and Texas ($80.4 million). On a per subscriber basis, insurers will pay the highest rebates in Pennsylvania ($990 per subscriber), Virginia ($770 per subscriber) and Minnesota ($670). Virginia ranks high largely because one insurer, Sentara (also known as Optima), had the highest individual premiums in the country in 2018 and now owes especially large rebates.
Rebates also will vary by insurer. Other insurers issuing large rebates across the individual market include Centene (at least $216.9 million), HCSC ($78.5 million), Cigna ($55.9 million), and Highmark ($50.8 million). These insurers tend to have high enrollment and participate in a number of states.
Insurers may issue the rebates in the form of a check to consumers or as a credit applied to the premiums consumers must pay. For people with employer coverage, the rebate may be shared between the employer and employee.