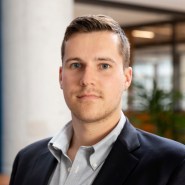 Matt McGough
Research Associate, Program on the ACA and the Peterson-KFF Health System Tracker
Matt McGough is a Research Associate at KFF for the Program on the ACA and the Peterson-KFF Health System Tracker, where he conducts policy research on the Affordable Care Act (ACA) and its effects on private insurers and enrollees, as well as analyses on health spending, quality of care, access, and affordability in the United States and international comparisons.
Prior to joining KFF, Matt worked as a Research Assistant for the Child and Adolescent Health Measurement Initiative (CAHMI), where he aided in data production of the National Survey of Children's Health (NSCH). He also worked on the National PrEP Program Research Team at the Johns Hopkins Bloomberg School of Public Health, where he helped develop policy proposals that would create an innovative Federal delivery system of PrEP for HIV to Medicaid enrollees and those who are uninsured. Matt was also the 2021 Peter G. Peterson Foundation Intern in KFF's Program on the ACA.
Matt is currently pursuing a Master of Science in Public Health (MSPH) from the Johns Hopkins Bloomberg School of Public Health and graduated with a bachelor's degrees in public health studies and economics from Johns Hopkins University.