At a time when debate is beginning about a national Medicare-for-all plan and other approaches to expanding coverage through public programs, this month's KFF Health Tracking poll examines Americans' early opinion on a range of options under consideration.
The poll finds majority support for four different approaches:
77 percent of the public, including most Republican (69%), favor allowing people between the ages of 50 to 64 to buy health insurance through Medicare;
75 percent, including most Republicans (64%), favor allowing people who aren't covered by their employer to buy insurance through their state's Medicaid program;
74 percent, including nearly half of Republicans (47%), favor a national government plan like Medicare that is open to anyone, but also would allow people to keep the coverage they have if they want to; and
56 percent, including nearly a quarter of Republicans (23%), favor a national plan called Medicare-for-all in which all Americans would get their insurance through a single government plan.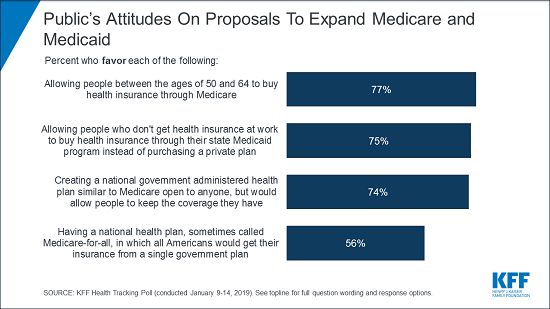 Views Shift Significantly When People Hear Arguments For and Against Medicare-for-All
This month's poll also probes attitudes after hearing common arguments for and against a national Medicare-for-all plan that could play a role in a future legislative debate. The results show how the public's attitudes can shift significantly depending on what arguments people hear.
Medicare-for-all starts with net favorability rating of +14 percentage points (56% who favor it, minus 42% who oppose it). This jumps to +45 percentage points when people hear the argument that this type of plan would guarantee health insurance as a right for all Americans. However, views turn negative and net favorability falls to -44 percentage points when people hear the argument that it would lead to delays in some people getting medical tests and treatments.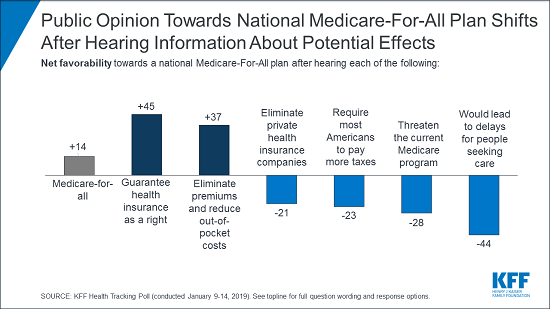 Partisans Have Different Health Priorities for Congress Except All Agree on Lowering Drug Prices
The poll also gauges the public's health care priorities for Congress.
When asked to choose a top priority, Democrats rank ensuring the Affordable Care Act's protections for people with pre-existing conditions first (31%), ahead of other priorities such as passing Medicare-for-all (20%), and lowering prescription drug costs (20%).
Independents rank preserving the ACA's pre-existing condition protections as Congress' top health priority (24%) along with lowering prescription drug costs (20%).  Repealing and replacing the ACA ranks as a top priority for Republicans (27%) along with lowering prescription drug costs (20%).
When Democrats were asked whether their party's new House majority should focus on improving and protecting the ACA or passing a Medicare-for-all plan, half (51%) say the ACA and nearly four in 10 (38%) choose Medicare-for-all.
Most Unaware of a Federal Judge's Ruling that Would Invalidate the Entire ACA if Upheld
The poll finds that less than half (44%) of the public are aware of a December ruling by a federal judge in Texas that the ACA is invalid and should not be in effect.
The judge ruled in favor of a challenge filed by Republican state attorneys general that the entire law is invalid because Congress eliminated the tax penalty for not having health insurance. The ACA remains in effect pending an appeal by Democratic state attorneys general.
When told that the ruling deemed the ACA was invalid and should not be in effect, more Americans disapprove (51%) than approve (41%) of the ruling, with a sharp partisan split mirroring the public's overall views of the law.
Designed and analyzed by public opinion researchers at the Kaiser Family Foundation, the poll was conducted from January 9-14, 2019 among a nationally representative random digit dial telephone sample of 1,190 adults. Interviews were conducted in English and Spanish by landline (285) and cell phone (905). The margin of sampling error is plus or minus 3 percentage points for the full sample. For results based on subgroups, the margin of sampling error may be higher.