Half in Non-Expansion States Support Their State Expanding Medicaid; More if Tied to Work Requirements
With less than four months to go until the Congressional midterm general election, a candidate's position on continuing protections for people with pre-existing health conditions is at the forefront of the many health care issues on voters' minds, finds the latest Kaiser Family Foundation tracking poll.
Continuing pre-existing condition protections ranks first among six other candidate positions on health care issues with 63 percent of voters rating it the "most important" or a "very important" factor. Pre-existing condition protections rank highly across party identification, with majorities of Democratic (74%), independent (64%) and half of Republican (49%) voters saying a candidate's position on this issue is either the "most important factor" in their vote or "very important, but not the most important factor."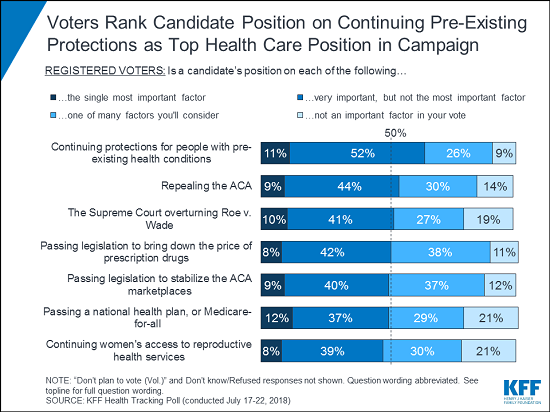 A candidate's positions on other health care issues also ranked highly, bunched closely together with about half saying they were either "the most important" or "very important" to them in evaluating candidates.
With attention now focused on possible health care issues that could be brought before the Supreme Court, the poll finds nearly two-thirds (64%) oppose the Court overturning the pre-existing condition protections of the health law, and half oppose the Court overturning the ACA entirely.  Additionally, in KFF's first polling conducted since Justice Kennedy's retirement announcement, two-thirds (65%) of the public do not want to see the Supreme Court overturn its Roe v. Wade decision, while one-fourth (26%) would like to see it reversed.
The Trump Administration Actions Toward the Affordable Care Act
The Trump administration has taken several steps that change the ACA, from reducing funding for advertising and support for Marketplace enrollment navigators, to stopping certain payments to insurers, to introducing health insurance plans that forgo traditional ACA plan benefits, to supporting the elimination of the individual mandate penalty. More than half (56%) of the public thinks that President Trump and his administration are trying to make the ACA fail and more believe this is a bad thing versus a good thing by a nearly seven to one margin (47% vs 7%), including 77 percent  of Democrats who believe this.  A third (32%) of the public thinks the President is trying to make the ACA work.
Consistent with previous KFF polling on the topic, a majority of the public (58%) believes that since President Trump and Republicans in Congress control government and have made changes to the ACA, they are responsible for any problems with the law moving forward. About a quarter (27%) say that since President Obama and Democrats in Congress passed the law, they are still responsible for problems with the law going forward.
Half of Those in States That Have Not Expanded Medicaid Favor Expanding It; More Would Support Expansion If a Work Requirement is Included
Seventeen states have not expanded their Medicaid programs, an option under the ACA, but three of these states are now considering expansion. Among individuals living in non-expansion states, half (51%) say they would like their state to expand Medicaid to cover more low-income uninsured people. About four in ten (39%) of the non-expansion state residents say they would like to see their state keep Medicaid as it is today.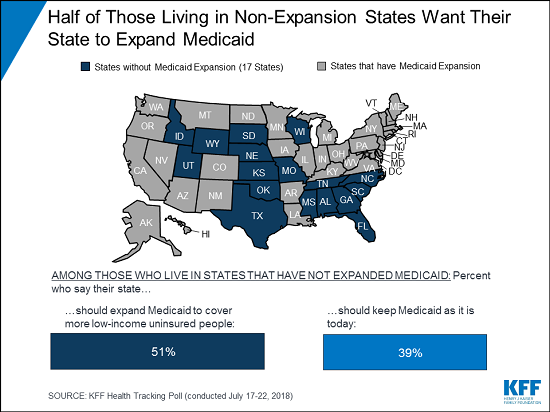 The Trump administration issued guidance earlier this year allowing states to impose work requirements for individuals enrolled in Medicaid. Eleven states have applied for such waivers and four have been approved to date, with Kentucky's waiver pending further action since a court has placed its implementation on hold. When Medicaid non-expansion state residents who initially expressed opposition to an expansion (39%) are asked if they would favor such expansion if paired with a work requirement for non-elderly adults states deem able to work, two-thirds of them (68%) would be "more likely" to support an expansion.
Methodology
Designed and analyzed by public opinion researchers at the Kaiser Family Foundation, the poll was conducted from July 17-22, 2018 among a nationally representative random digit dial telephone sample of 1,200 adults. Interviews were conducted in English and Spanish by landline (300) and cell phone (900). The margin of sampling error is plus or minus 3 percentage points for the full sample. For results based on subgroups, the margin of sampling error may be higher.