A new analysis from the Kaiser Family Foundation finds that sign-ups in Affordable Care Act marketplace plans could continue to grow modestly over the next few years to 16.3 million (up 28%), based on the experience of the top-performing states.
Assessing ACA Marketplace Enrollment examines factors that may have kept enrollment in 2016 from reaching early projections, including smaller declines than expected in employer coverage and a substantial number of people buying their own insurance outside of the marketplaces. The analysis estimates that if all states performed at least as well as the top 10 states, the number of people signing up during annual open enrollment periods could reach 16.3 million (14.7 million after attrition when some enrollees fail to pay premiums, called effectuated enrollment), up from 12.7 million this year. This would still be less than enrollment of over 20 million projected by the Congressional Budget Office.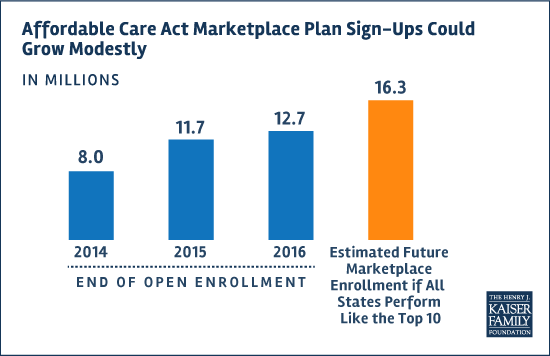 The analysis also charts coverage gains from 2013 to 2014 for uninsured people eligible for ACA marketplace plans. It shows that the biggest coverage gain came for people with incomes between 150 and 200 percent of the federal poverty level, who qualify for substantial premium subsidies under the health law. The number of marketplace-eligible people without insurance in that group declined by 33 percent during that period. The two groups experiencing the smallest gains in coverage were those with incomes below 150 percent of the federal poverty level (18% reduction in marketplace-eligible uninsured) and those with incomes between three and four times the poverty level (14% reduction).