Amid rising inflation, annual family premiums for employer-sponsored health insurance climbed 7% on average this year to reach $23,968, a sharp departure from virtually no growth in premiums last year, the 2023 benchmark KFF Employer Health Benefits Survey finds.
On average, workers this year contribute $6,575 annually toward the cost of family premium, up nearly $500 from 2022, with employers paying the rest. Future increases may be on the horizon, as nearly a quarter (23%) of employers say they will increase workers' contributions in the next two years.
Workers at firms with fewer than 200 workers on average contribute nearly $2,500 more toward family premiums than those at larger firms ($8,334 vs. $5,889). In fact, a quarter of covered workers at small firms pay at least $12,000 annually in premiums for family coverage.
This year's 7% increase in average premiums is similar to the year-over-year rise in workers' wages (5.2%) and inflation (5.8%). Over the past five years, premiums rose 22%, in line with wages (27%) and inflation (21%).
Among workers who face an annual deductible for single coverage, the average this year stands at $1,735, similar to last year. The average deductible amount has increased 10% over the last five years and 53% over the last ten years. Workers at small firms (under 200 workers) on average face much larger deductibles than workers at larger firms ($2,434 vs. $1,478).
The modest rise in deductibles may reflect employers' perceptions about the burden of cost-sharing on workers. More than half (58%) of employers say that their workers have at least a moderate level of concern about the affordability of their plan's cost-sharing requirements.
"Rising employer health care premiums have resumed their nasty ways, a reminder that while the nation has made great progress expanding coverage, people continue to struggle with medical bills, and overall the nation has no strategy on health costs," KFF President and CEO Drew Altman said.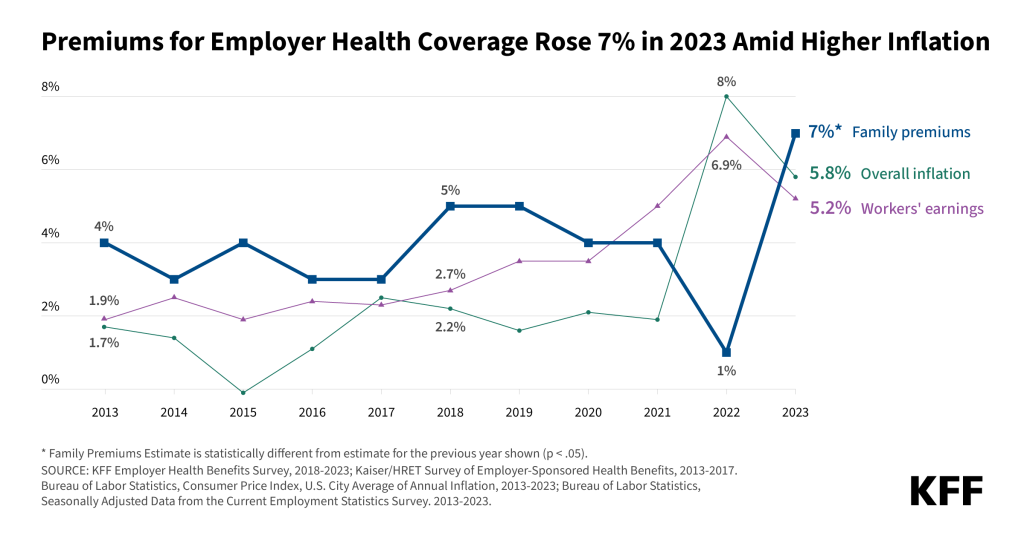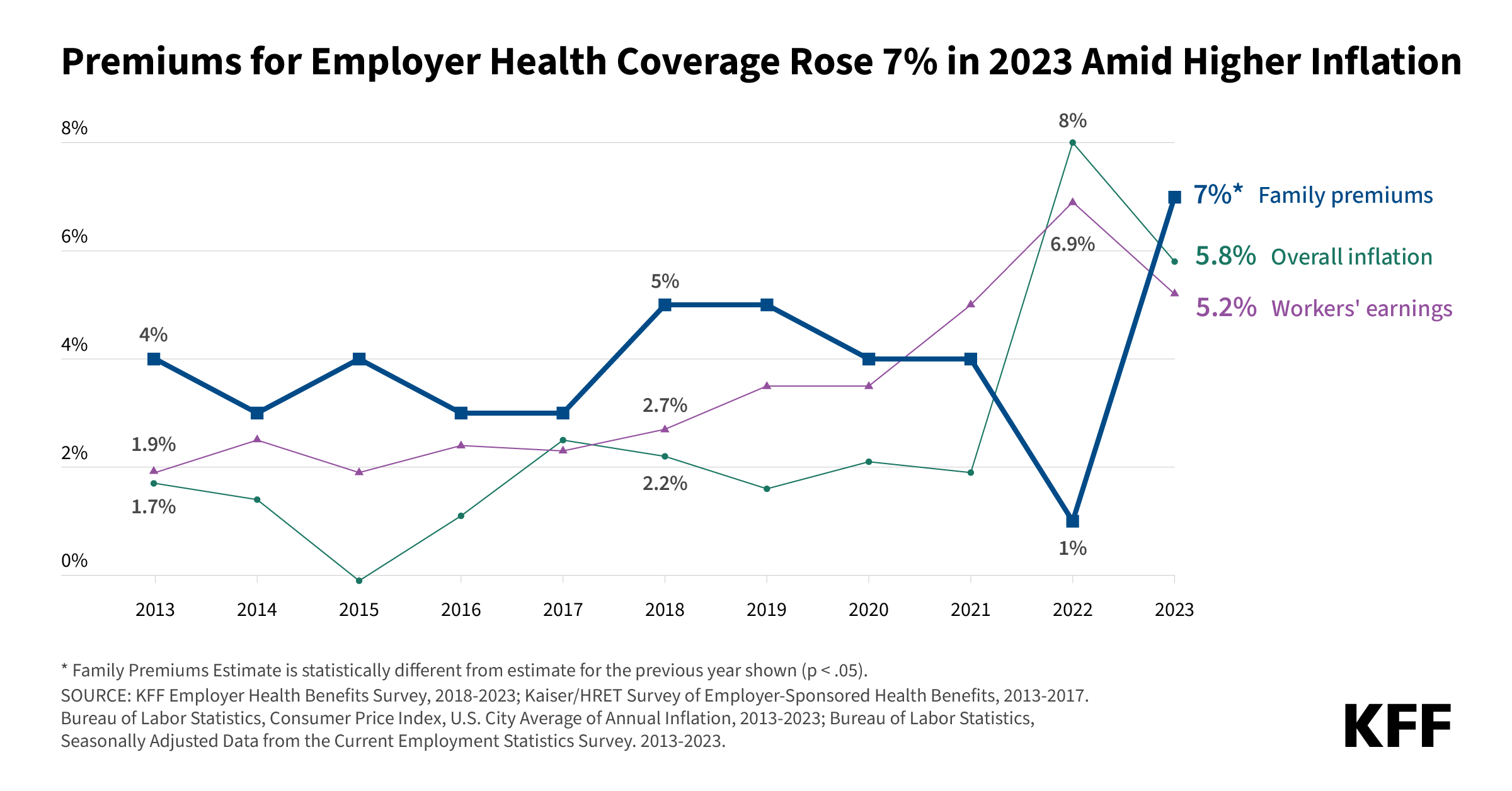 Almost 153 million Americans rely on employer-sponsored coverage, and the 25th annual survey of more than 2,100 small and large employers provides a detailed picture of the trends affecting it. In addition to the full report and summary of findings released today, the journal Health Affairs is publishing an article with select findings online. The article will also appear in its November issue.
Some Large Firms Do Not Cover Legal Abortions; Others Do But with Restrictions
In the wake of the Supreme Court's June 2022 decision that ended the federal constitutional right to abortion, states have adopted a range of new laws to prohibit or severely restrict access to abortion, creating challenges for large employers with workers in multiple states.
Among all large firms (with at least 200 workers), one in ten (10%) say that their largest plan does not cover legal abortions under any circumstances. An additional 18% say they only cover legal abortions under limited circumstances, such as in cases involving rape, incest, or health or life endangerment.
In contrast, nearly a third (32%) of large firms say they cover legal abortions in most or all circumstances. Another four in ten (40%) say they were unsure of their plan's abortion coverage, potentially because their policies were in flux or they were unaware of the details.
With abortion banned or severely limited in some states, 7% of large employers say that they provide, or plan to provide, financial assistance for travel expenses for enrollees who have to go out of state to obtain a legal abortion. Very large employers (with at least 5,000 workers) are most likely to provide, or plan to provide, such travel reimbursements (19%).
Concerns Persist About Adequacy of Mental Health and Substance Use Networks
Among large employers (with at least 200 workers) that offer health benefits to at least some workers, the vast majority (88%) say their plan has enough primary care doctors to provide timely access for enrollees. Substantially fewer say the same about their mental health (59%) and substance use condition (58%) networks.
Nearly one in five (18%) of large offering firms say that they took steps in the past year to increase the number of mental health providers in their largest plan's network. This includes 44% of the largest employers (with at least 5,000 workers).
On the other hand, one in five (21%) of large offering employers say their plan has limits on the number of covered mental health services, potentially restricting access for enrollees with long-term needs.
"For several years now, the survey has shown that many large employers do not believe that their networks have enough mental health providers to provide timely access to care. In 2023, many large employers, including nearly half of the largest employers, say that they are taking steps to better meet enrollees' needs," said Gary Claxton, a KFF senior vice president and director of the Health Care Marketplace Project, the lead author of the study and also of the Health Affairs article.
Other findings include:
Offer rate. Nearly all employers with at least 200 workers offer health benefits to at least some workers, though smaller firms are increasingly less likely to offer health benefits as they get smaller. For example, 83% of firms with 10 to 199 employees offer health benefits to at least some of their workers, while just 42% of firms with three to nine workers do so.
Dental, vision and long-term care insurance. Among firms offering health benefits, most also offer separate dental coverage (91%) – double the share that did so in 2010 (46%). Most also offer vision (82%) insurance, also up sharply since 2010 (17%). Fewer offer long-term care insurance (26%).
Coverage for gender-affirming surgery. Among employers with at least 200 workers, 23% cover gender-affirming survey in their largest health plan. More than a third (37%) say they do not cover such surgeries, while a large share (40%) are not sure about such coverage. Among the largest firms (at least 5,000 workers), nearly two thirds (62%) cover gender-affirming surgery, many of which expanded the benefit in the past two years.
Centers of Excellence. About one in five (19%) offering employers with at least 200 workers say their plan includes a "center of excellence" program for specific services, either limiting enrollees to a narrower group or providers or offering lower cost-sharing for doing so. Among these firms, 22% have introduced a new center of excellence program within the last two years. Among firms with a center of excellence program, 45% had a program for joint replacement, 42% for back or spine surgery, 31% for bariatric surgery, 30% for mental health, and 28% for substance use disorders.
Methodology
KFF conducted the annual employer survey between January and July of 2023. It included 2,133 randomly selected, non-federal public and private firms with three or more employees that responded to the full survey. An additional 2,759 firms responded to a single question about offering coverage. For more information on the survey methodology, see the Survey Design and Methods Section.
ABOUT KFF:
KFF is the independent source for health policy research, polling and news.
ABOUT HEALTH AFFAIRS:
Health Affairs is the leading peer-reviewed journal at the intersection of health, health care, and policy. Published monthly by Project HOPE, the journal is available in print and online. Late-breaking content is also found through healthaffairs.org, Health Affairs Today, and Health Affairs Sunday Update.
Project HOPE is a global health and humanitarian relief organization that places power in the hands of local health care workers to save lives across the globe. Project HOPE has published Health Affairs since 1981.