Poll: Nearly Half of Adults Would Be Interested in Prescription Weight-Loss Drugs, But Enthusiasm Fades Based on Lack of Coverage and Risk of Regaining Weight 
Nearly half (45%) of the public are at least somewhat interested in taking a prescription weight-loss drug, including many who say they only want to lose a little weight, though many people lose interest when presented with potential financial and medical drawbacks, the latest KFF Health Tracking Poll reveals.

The poll gauges the public's interest in using prescription drugs to lose weight as a relatively new class of drugs, initially approved to treat diabetes, is garnering attention for their potential to aid weight loss. Among those trying to lose weight, six in 10 (59%) say they would be interested in a safe and effective weight-loss drug, including half (51%) of those who say they are trying to lose less than 10 pounds.

People's interest in trying such drugs drops significantly when asked about potential obstacles and drawbacks. For instance, about one in six say they would remain interested if it were not covered by their insurance (16%) or if the U.S. Food and Drug Administration had not approved the drug for weight loss but for a different condition (16%). A similar share (14%) say they would still be interested if they might gain back the weight they lost if they stopped taking the drug.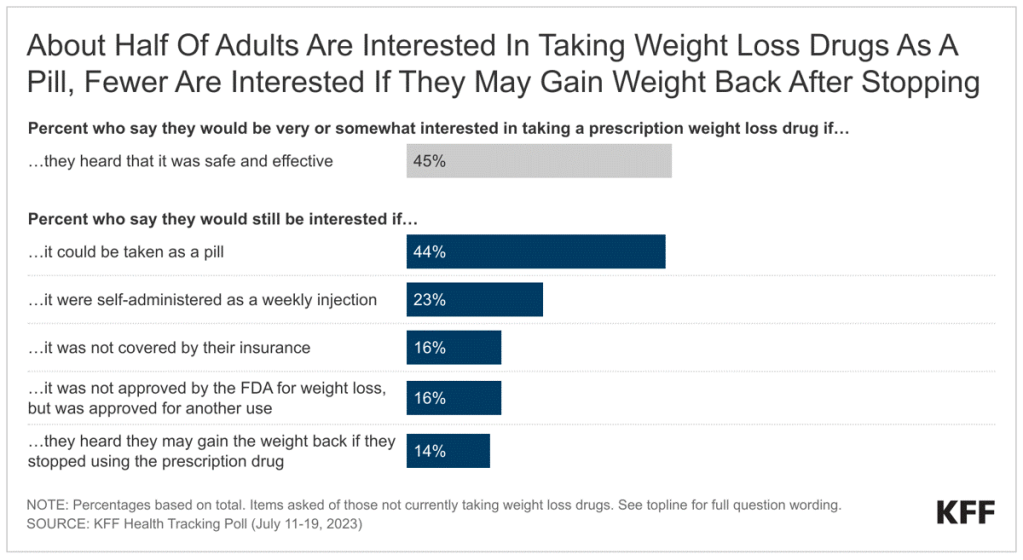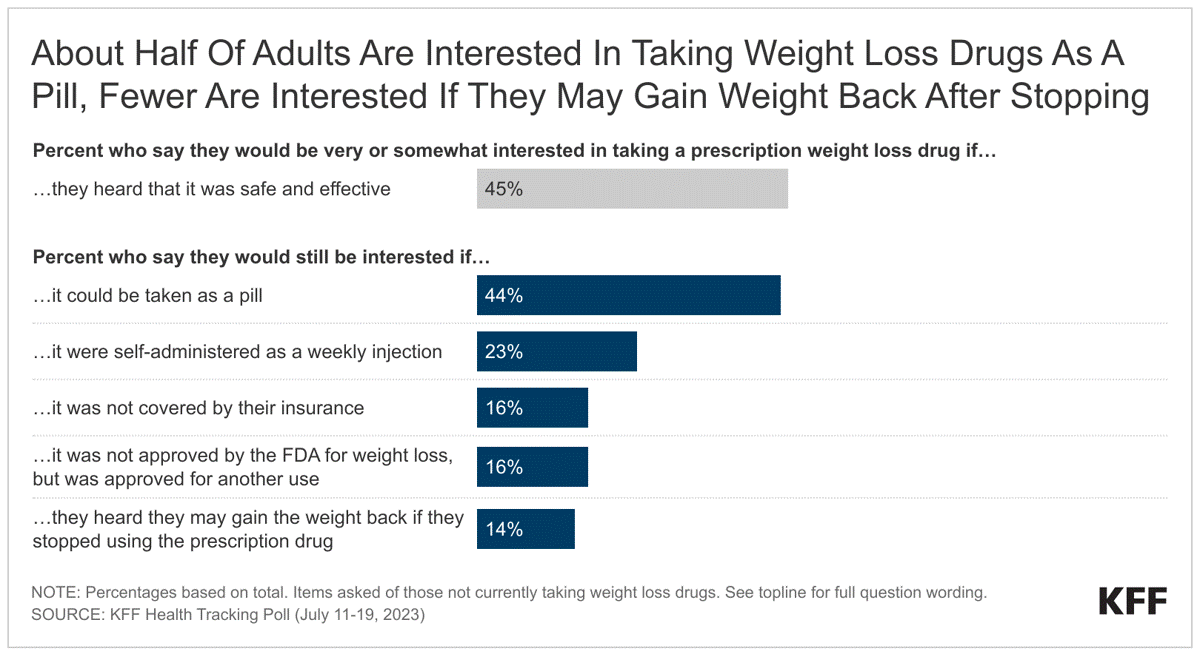 A large majority (80%) of the public says insurers should cover the cost of weight-loss drugs for adults who have been diagnosed as overweight or obese while half of adults (53%) says insurers should cover the cost of these drugs for anyone who wants to lose weight. Half (50%) say that insurers should cover the drugs' cost even if it could increase monthly insurance premiums for everyone. 

Few Aware of Medicare Drug-Price Provisions Included in Last Year's Inflation Reduction Act

Nearly a year after President Biden signed the Inflation Reduction Act into law, relatively few people are aware of its provisions aimed at lowering prescription drug costs in Medicare.

For example, a quarter of the public are aware that there's a law requiring the federal government to negotiate some drug prices for people with Medicare (25%); capping insulin costs for people with Medicare (25%); and placing an annual limit on Medicare enrollees' out-of-pocket drug costs (24%). Fewer know that there's a law penalizing drug companies that raise Medicare drug prices faster than the rate of inflation (10%).

People ages 65 and older, who are largely covered by Medicare, are more likely than younger adults to be aware of most of these provisions, but still the shares are modest. For instance, among people who are at least 65 years old, 44% know about the insulin price caps and 34% know about the annual limit on out-of-pocket drug spending.

The poll also gauges the public's views about drug manufacturers and drug prices.
Key findings include:
About three in 10 (28%) adults, including 40% of those with annual household incomes under $40,000, say it's difficult for them to afford prescription drugs. A similar share of adults (31%) say that they did not take their medicine as prescribed in the past year due to their costs.
About eight in 10 (83%) adults say drug companies' profits are a major factor contributing to the price of prescription drugs, including large majorities of Republicans (89%), Democrats (84%), and independents (78%). Fewer adults say that research and development costs (54%) or marketing and advertising (45%) are major factors affecting drug prices.
Nearly three-quarters (73%) of the public say there is not enough regulation of prescription drug prices, up from 63% in May 2021. This includes two thirds of Republicans (68%), up from 57% in May 2021.
Designed and analyzed by public opinion researchers at KFF, the survey was conducted from July 11-19, 2023, online and by telephone among a nationally representative sample of 1,327 U.S. adults. Interviews were conducted in English and in Spanish. The margin of sampling error is plus or minus 3 percentage points for the full sample. For results based on other subgroups, the margin of sampling error may be higher.