KFF COVID-19 Vaccine Monitor: The Impact of the COVID-19 Pandemic on LGBT People
The latest report from the KFF COVID-19 Vaccine Monitor examines how the COVID-19 pandemic has impacted the lives of lesbian, gay, bisexual and transgender (LGBT) people and finds that larger shares of LGBT adults report economic losses and mental health struggles than their non-LGBT counterparts.
Based on data gathered on self-identified LGBT and non-LGBT individuals over two months, some of the key differences include:
Economic impact. Most LGBT adults say that they or a household member lost a job or income due to the pandemic (56%), which compares to 44% of non-LGBT adults.
Mental health. Three quarters (74%) of LGBT people say worry and stress from the pandemic has had a negative impact on their mental health, compared to half (49%) of non-LGBT people. LGBT people are also more than twice as likely to say this negative impact has been major (49% to 23%).
Vaccine intentions. LGBT people are about as eager to get vaccinated as other Americans but more view it as a part of everyone's responsibility to protect the public health (75%) rather than a personal choice (24%). Non-LGBT individuals are about as equally likely to say it is part of everyone's responsibility (48%) and a personal choice (49%).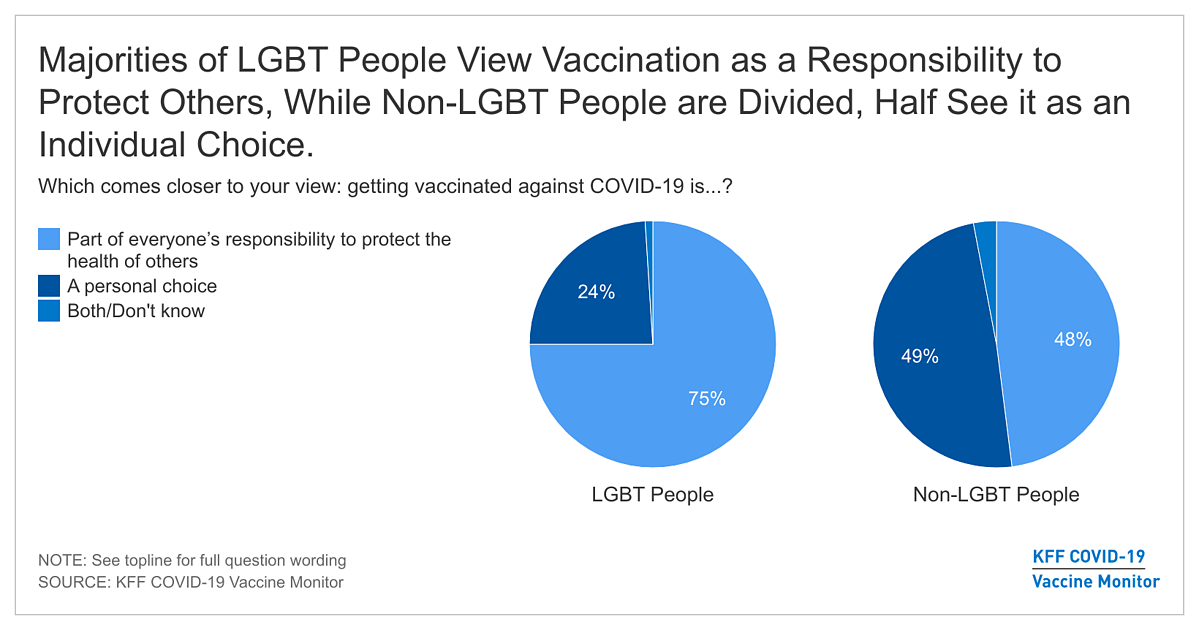 Differences in the experiences of LGBT and non-LGBT individuals likely reflect a number of factors. Other research has found that LGBT individuals are more likely to work in health care, restaurants and other industries highly impacted by the pandemic; have lower average incomes; and may experience discrimination and stigma, including in accessing health care.
The new report is available through the Monitor's online dashboard.
This analysis is based on interviews conducted in December and January among a nationally representative random digit dial telephone sample of 3,239 adults, including 174 who identified as lesbian, gay, bisexual, or transgender. The margin of sampling error is plus or minus 9 percentage points for the full LGBT sample and 2 percentage points for the non-LGBT sample. For results based on subgroups, the margin of sampling error may be higher. Detailed methodology can be found in the toplines for the December and January KFF COVID-19 Vaccine Monitor.
The KFF COVID-19 Vaccine Monitor is an ongoing research project tracking the public's attitudes and experiences with COVID-19 vaccinations. Using a combination of surveys and qualitative research, this project tracks the dynamic nature of public opinion as vaccine development and distribution unfold, including vaccine confidence and acceptance, information needs, trusted messengers and messages, as well as the public's experiences with vaccination.