With the COVID-19 vaccination rollout still in its early stages, a KFF analysis finds that most older adults have not yet been vaccinated against the potentially deadly virus, as vaccine supplies remain limited and most states have only recently begun to make people 65 and older eligible.
Since January 12, the federal government has recommended that states expand vaccine eligibility to anyone 65 and older, beyond the initial higher-priority groups of health care workers and long-term care residents. Twenty-nine states plus DC have done so, according to KFF tracking.
Among the 15 states (including DC) that have expanded to vaccinate people 65 and older and are tracking vaccinations among this group, the share of people 65 and older who have gotten at least one dose ranges from 34 percent in West Virginia to 10 percent in Pennsylvania (though its data does not yet include Philadelphia County).
Among 13 states that report COVID-19 vaccinations for adults 60 and older, only 4 of which have expanded vaccinations to people 65 and older, the share of people 60 and older who have received at least one dose ranges from 37 percent in Alaska to 9 percent in Rhode Island.
The analysis is based on data retrieved as of February 4, 2021. As states grapple with limited vaccine supply, older adults have reportedly encountered a number of problems such as not knowing how to schedule appointments or where to get vaccinated, waiting in long lines, or arriving for an appointment to find vaccines no longer available.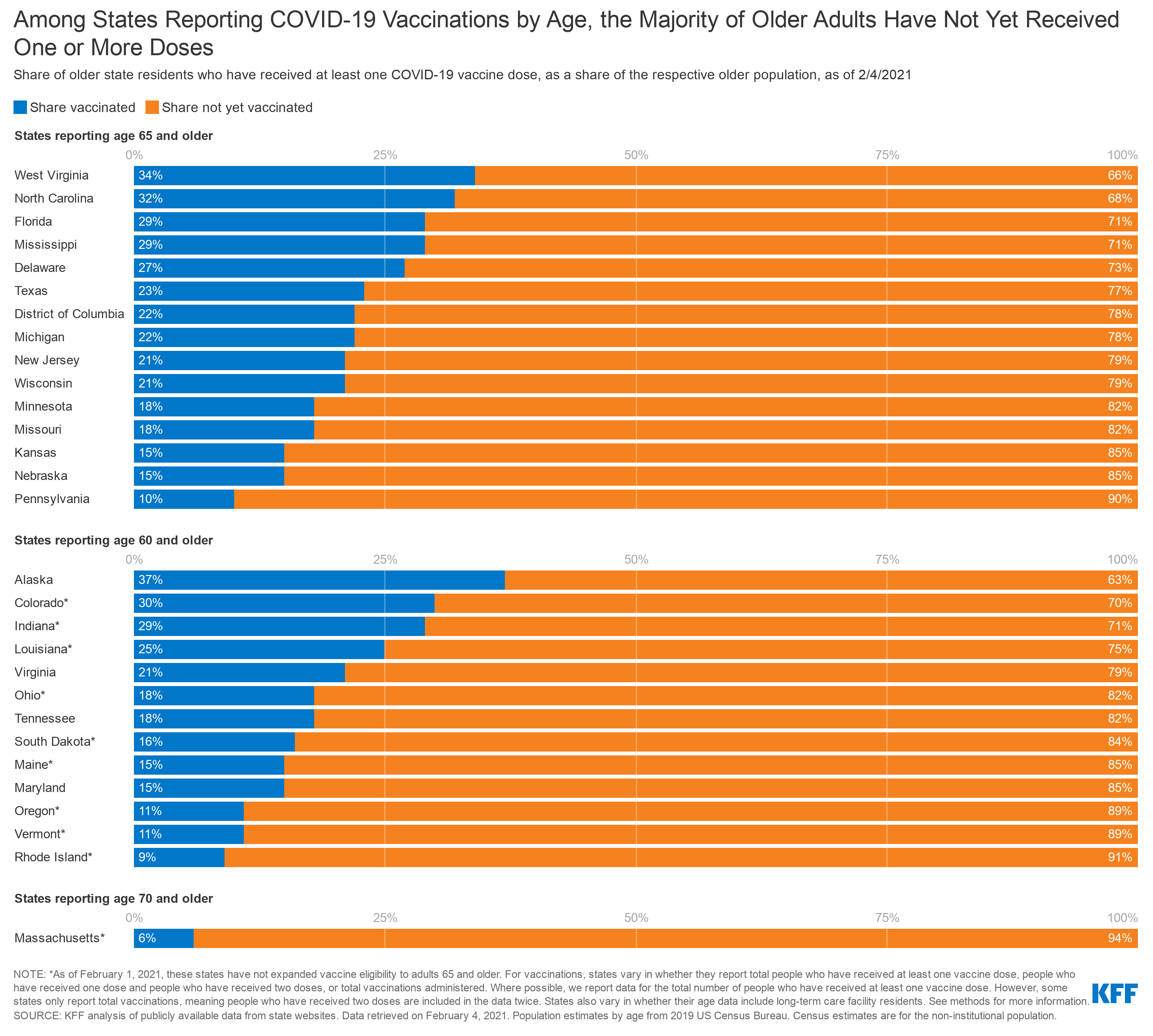 Older adults are more vulnerable to serious illness from the novel coronavirus, and adults 65 and older have accounted for 75 percent or more of all COVID-19 deaths in every month since the escalation of the pandemic last spring.
The lack of consistent vaccination data across states makes it difficult to provide a clear picture of the rollout of vaccines to older adults overall and to certain high-risk populations, such as older adults in communities of color.
For more data and analyses, including our KFF's COVID Vaccine Monitor and our state tracker of COVID-19 data and policy actions, visit kff.org.