A new KFF analysis finds that hundreds of thousands of people are disenrolled from Medicaid each year after giving birth, which could be prevented if all states were to take up a new option to extend Medicaid postpartum coverage to 12 months.
The estimate – based on analysis of Medicaid claims data from 2018 – finds that 610,000 postpartum women were disenrolled within a year of giving birth, accounting for about 40 percent of the 1.5 million Medicaid enrollees with live births that year. A new federally funded state option to extend postpartum care was created by a provision in the American Rescue Plan Act of 2021. The new option took effect on April 1, 2022 and is available to states for five years. 
The option – adopted by 33 states so far and the focus of pending legislation in one other – is receiving renewed attention amid rising maternal mortality rates and following the Supreme Court's decision to overturn Roe v. Wade. State policy decisions about Medicaid postpartum coverage could be especially impactful in states set to restrict abortion access, since the high court's ruling could affect the number of births in the U.S. covered by Medicaid. Federal law only requires states to provide pregnancy-related Medicaid coverage through 60 days following childbirth, after which some enrollees may lose coverage if their income is too high to qualify for Medicaid through some other eligibility pathway.
KFF researchers find that among Medicaid enrollees with a live birth in 2018, 31 percent were disenrolled within six months after delivery and 40 percent were disenrolled within a year. Among those who were disenrolled within a year, 1 in 4 (26%) subsequently re-enrolled in Medicaid during that same 12-month period following delivery. This phenomenon, known as "churn," can sometimes indicate that administrative barriers, rather than ineligibility, were behind the coverage loss.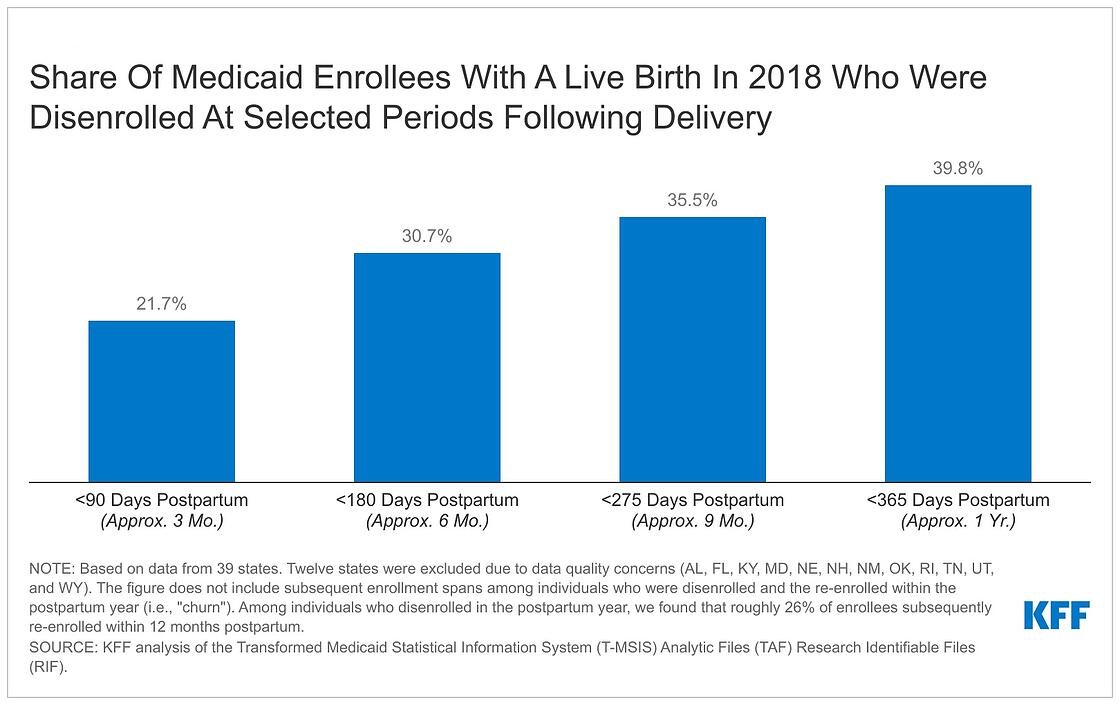 There were big differences in disenrollment rates across states in 2018, due to the wide variation in states' income eligibility limits and administrative requirements. For instance, 89 percent of Medicaid enrollees in Texas with a live birth that year were disenrolled within the 12 months following delivery, compared to 9 percent of enrollees in Washington D.C.
KFF analysts also found that disenrollment rates were twice as high in states that had not implemented the Affordable Care Act's Medicaid expansion. Sixty-one percent of postpartum Medicaid enrollees lost coverage within a year after delivery in non-expansion states, compared to 29 percent in expansion states.
The effects of the new option to extend Medicaid postpartum coverage for 12 months will not be felt until the end of the pandemic-era continuous enrollment requirement in Medicaid. It requires states to provide continuous coverage for Medicaid enrollees until the end of the month in which the public health emergency (PHE) ends in exchange for enhanced federal Medicaid funding for states during the COVID-19 emergency. The continuous enrollment requirement has helped prevent coverage loss and churn among enrollees, including postpartum enrollees, during the pandemic.
For more data and analyses about Medicaid postpartum coverage and women's health, visit kff.org.