For more than a year-and-a-half, the continuous enrollment requirement tied to enhanced Medicaid funding during the COVID-19 pandemic has all but halted enrollment "churn," the temporary loss of coverage in which people disenroll from Medicaid and then re-enroll within a short period of time.
Such disenrollments are expected to resume once the requirement ends and states begin processing Medicaid eligibility redeterminations. Individuals may lose coverage if they are no longer eligible or face barriers during the redetermination process, such as providing required documentation.
A new KFF analysis that examined churn rates before the pandemic finds that about 10 percent of full-benefit Medicaid enrollees experienced a gap in coverage of less than a year. Rates, which varied by state, were higher for children and adults compared to the elderly and people with disabilities. Federal rules and state policy decisions on resuming disenrollments will influence churn rates following the end of the continuous enrollment requirement.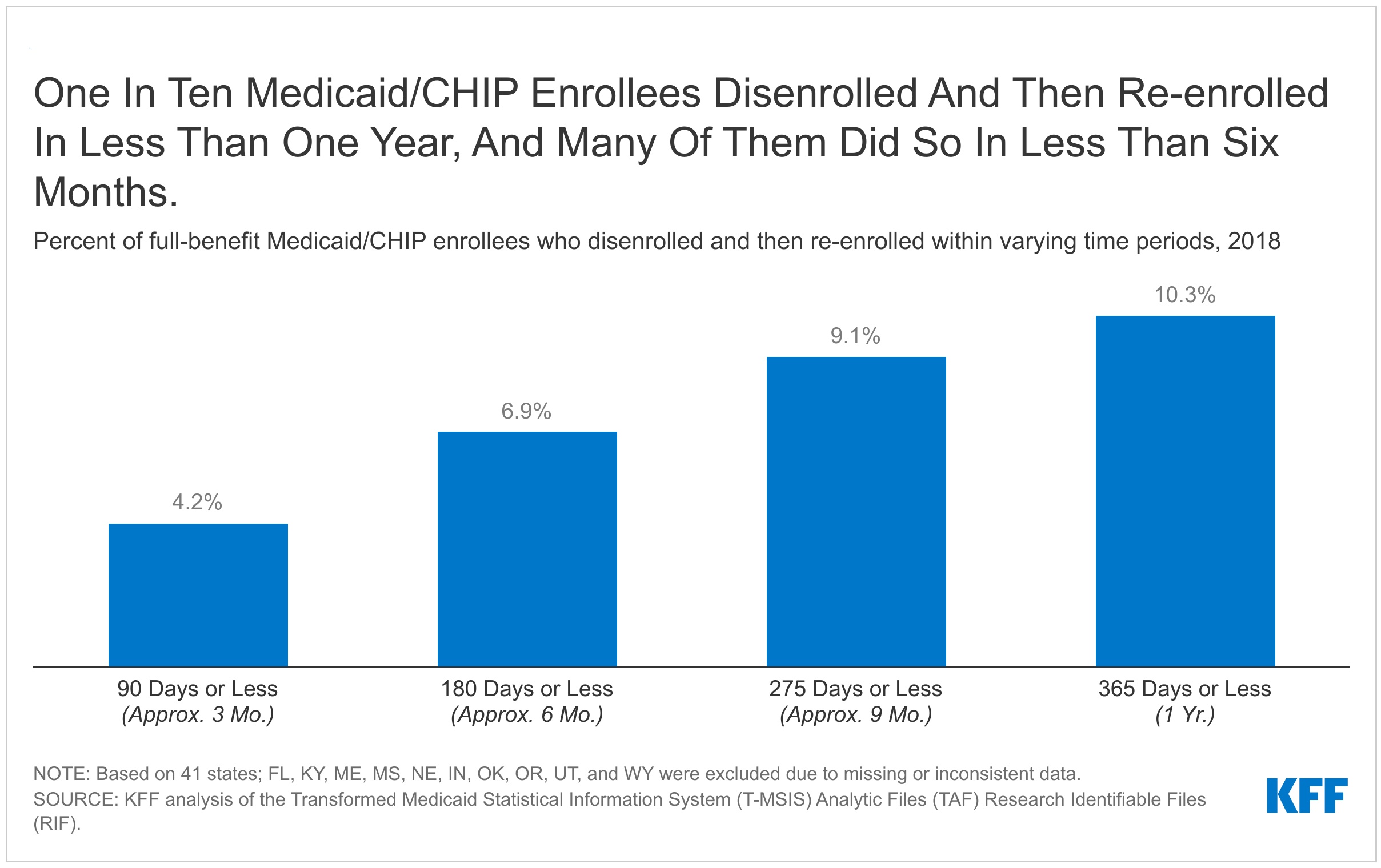 All of this is important context for the debate over the Build Back Better Act (BBBA) in Congress. The House-passed version of the bill includes provisions to phase out the continuous enrollment requirement for Medicaid, with rules that would limit how aggressively states could disenroll people. For example, states could only disenroll individuals who have been enrolled at least 12 consecutive months and must limit eligibility redeterminations to no more than one-twelfth of all enrollees per month through September 2022. States could not disenroll individuals based on returned mail unless there were at least two failed attempts to contact the individual by at least two different methods (e.g., mail and text messages).
The BBBA also would require states to extend 12-month continuous coverage for children in Medicaid and CHIP (currently an option for states) and would require 12-month continuous coverage for postpartum individuals, a change from the current requirement of 60-day postpartum coverage and a temporary option provided to states through the American Rescue Plan Act (ARPA).
For the full analysis about historical rates of Medicaid enrollment churn and a summary of BBBA provisions that would limit a return to churn, visit kff.org.