Sunday, January 19th at 8-9 pm EST / 5-6 pm PST Streaming on VH1.com and GreaterThanAIDS.org
Live Chat #WeAreEmpowered
MENLO PARK, CA, January 10, 2014 – Gather your girlfriends, your book club, your church group, your sorority sisters and claim the living room for a Girls' Night In!  Fourteen time Grammy Award-winning artist and HIV advocate Alicia Keys is joining with Greater Than AIDS to host a National Watch Party and Twitter Chat about women and HIV/AIDS in America Sunday, January 19th.
Ms. Keys is urging women and their loved ones to come together on Sunday January 19th between 8-9 pm ET (5-6 pm PT) and log on to VH1.com to watch "We Are Empowered," an intimate and inspiring half-hour conversation that she had about friendship, love and strength with five women living with HIV in the U.S. Ms. Keys will be live tweeting throughout the hour at #WeAreEmpowered.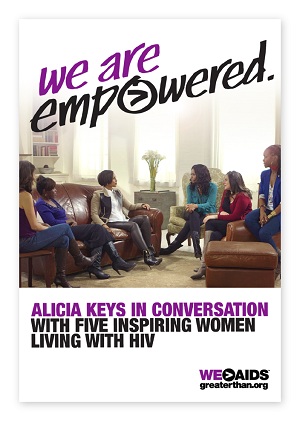 Clear Channel Radio will make available an audio version of the program for broadcast across its stations nationwide (check local stations for airtime).   And Walgreens is helping to amplify the message through social media efforts by engaging popular bloggers to encourage their followers to take part and host their own watch parties.
As a force in the global fight against AIDS, Keys has dedicated her work in philanthropy to help bring awareness to the urgency of HIV/AIDS.  Now through Empowered, she is once again highlighting the power of women – as mothers, daughters, sisters, friends, partners and people living with HIV – to change the course of this disease through every day actions. "I was so moved by the strength, passion and messages of hope of the women of Empowered and I know you will be too," said Alicia Keys.  "The power is within all of us – whether HIV positive or negative – to make a difference in this fight."
Of the more than 1.1 million people living with HIV in the United States today, one in four is a woman.  Women of color have been especially hard hit, accounting for the majority of new infections occurring among women in this country.  If current trends continue, it is estimated that one in 32 Black women will contract HIV in her lifetime.
"We Are Empowered" features five HIV positive women from different parts of the country in conversation with Ms. Keys:  Cristina, a graduate student from the San Francisco Bay Area who was born with HIV; Eva, a home health care worker living in Atlanta with her family; Kym, a young professional living in Texas who learned she was positive after her new husband became sick and died as a result of HIV; Jen, a wife and mother in Portland (OR) who has being living with HIV for over 20 years; and Stephanie, a recent college graduate from North Carolina who appeared in an MTV special on youth and HIV.  They share their stories in the hopes of reaching other women and showing how, whether positive or negative, we are all empowered in this fight.
The event is presented as part of Empowered, a national public information campaign Ms. Keys launched with Greater Than AIDS last year to reach women in the U.S. about HIV/AIDS.   Through targeted media messages, community outreach and special promotions, the campaign promotes specific ways women are empowered in the face of HIV/AIDS, including:
EMPOWERED to know the facts about HIV/AIDS, including the impact of HIV on women
EMPOWERED to speak openly about HIV/AIDS with family, friends and others in our lives
EMPOWERED to protect ourselves and our loved ones
EMPOWERED to ask to be tested and to know doing so is an act of pride, not shame
EMPOWERED to live full and healthy lives and help prevent spread of disease if positive by staying on treatment
For more information about Greater Than AIDS and the Empowered campaign, including for more details about the Empowered Watch Party & Conversation, visit:  www.greaterthan.org/empowered.
About Greater Than AIDS
Greater Than AIDS is a leading national public information response focused on the U.S. domestic epidemic. Launched in 2009 by the Kaiser Family Foundation and Black AIDS Institute, Greater Than AIDS is supported by a broad coalition of public and private sector partners.  Through targeted media messages and community outreach, Greater Than AIDS and its partners work to increase knowledge, reduce stigma and promote actions to stem the spread of the disease.  While national in scope, Greater Than AIDS focuses on communities most affected.
About Alicia Keys
Alicia Keys is a 14 time Grammy Award® winning singer/songwriter/producer, actress, New York Times best-selling author, entrepreneur and humanitarian. Since releasing her debut album, songs in A minor, Keys has built an unparalleled repertoire of hits with over 30 million albums sold worldwide. As a philanthropist, Keys co-founded Keep a Child Alive (KCA) which provides AIDS treatment, support, nutrition and love to children and families affected by HIV/AIDS in Africa and India.