Many Medicare beneficiaries face high annual out-of-pocket costs for dental and hearing care — services that generally aren't covered in traditional Medicare, but typically are covered by Medicare Advantage plans though the scope and value of these benefits vary, finds a new KFF analysis.
The analysis shows that, among beneficiaries who used each type of service, average annual out-of-pocket spending was $914 for hearing care and $874 for dental care in 2018, but considerably less ($230) for vision care. Among those who were in the top 10 percent in terms of their out-of-pocket costs for such services, 2.7 million beneficiaries spent $2,136 or more on their dental care, while 360,000 beneficiaries spent $3,600 or more on hearing services.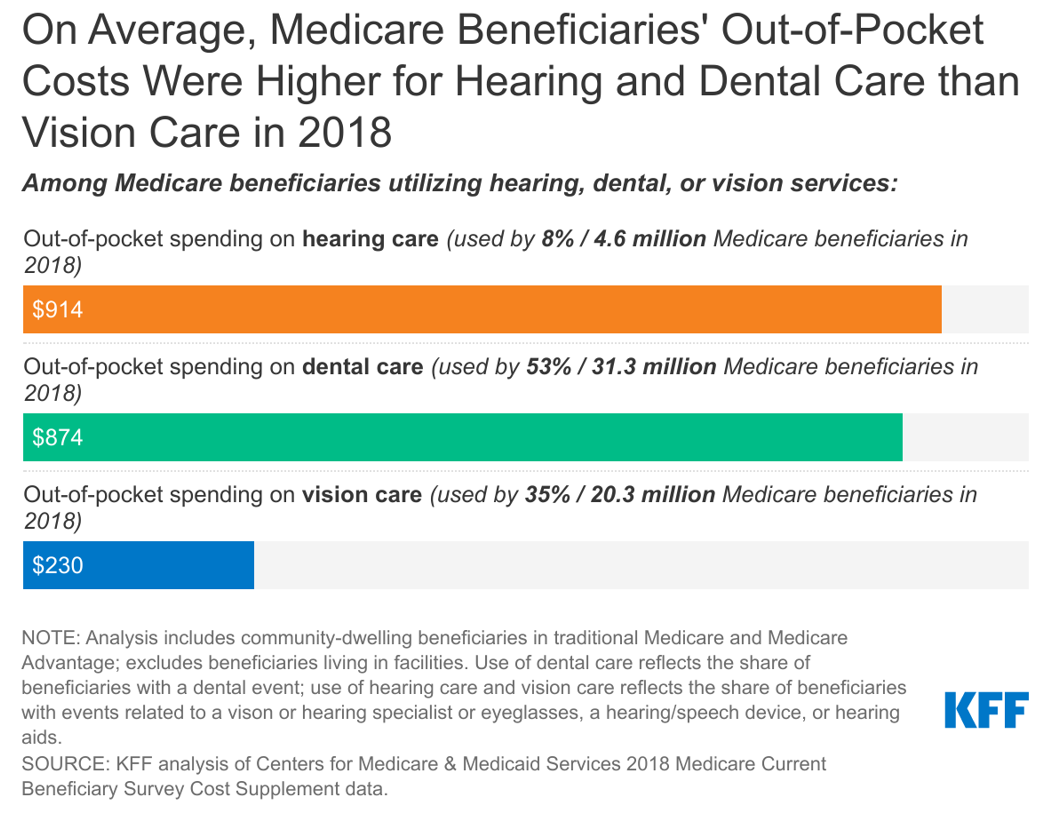 Beneficiaries can face high out-of-pocket costs whether they are in traditional Medicare or privately-run Medicare Advantage plans, the analysis finds. Among users of dental services, for instance, average out-of-pocket spending was $766 among beneficiaries in Medicare Advantage and $992 among those in traditional Medicare in 2018.
The analysis also finds that people on Medicare in communities of color, with disabilities, or with low incomes are disproportionately likely to have difficulty getting these services. About 16 percent of all Medicare beneficiaries reported in 2019 that there was a time in the last year that they could not get dental, hearing, or vision care, but this was reported by a greater percentage of beneficiaries under age 65 with long-term disabilities (35%); those enrolled in both Medicare and Medicaid (35%); with low incomes (e.g., 31% for those with income under $10,000); and Black and Hispanic beneficiaries (25% and 22%, respectively).
The new analysis also provides an overview of coverage of dental, hearing, and vision services in Medicare Advantage plans. While most plans offer coverage for these services, the extent of coverage varies and has limits.
Nearly all Medicare Advantage enrollees with access to dental coverage have preventive care benefits, and most have access to more extensive dental benefits. Cost sharing for more extensive dental services is typically 50 percent for in-network care, and typically is subject to an annual dollar cap on plan payments.
Similarly, almost all Medicare Advantage enrollees have access to hearing exams and hearing aid coverage. The coverage generally is subject to either a maximum annual dollar cap and/or frequency limits on how often plans cover the service.
Virtually all Medicare Advantage enrollees have access to vision exams and eyewear coverage, typically subject to maximum annual limits averaging about $160 per year.
The findings come as policymakers in Congress are considering adding dental, hearing, and vision benefits to Medicare as part of the budget reconciliation bill, one of several competing spending priorities in the debate. It would be the largest expansion of Medicare benefits since the Part D drug benefit was launched in 2006. (A similar 2019 proposal would have increased Medicare spending by more than $300 billion over 10 years according to the Congressional Budget Office.)
For the full analysis and other KFF data and analyses about Medicare, including the recent Medicare and Dental Coverage: A Closer Look, visit kff.org