A surge in COVID-19 hospitalizations among people who have not been vaccinated in August is adding billions of dollars in preventable costs to the nation's health-care system, an updated KFF analysis finds.
In August, the new analysis estimates that the preventable costs of treating unvaccinated patients in  hospitals total $3.7 billion, almost twice the estimates for June and July combined. The total preventable costs for those three months now stand at an estimated $5.7 billion.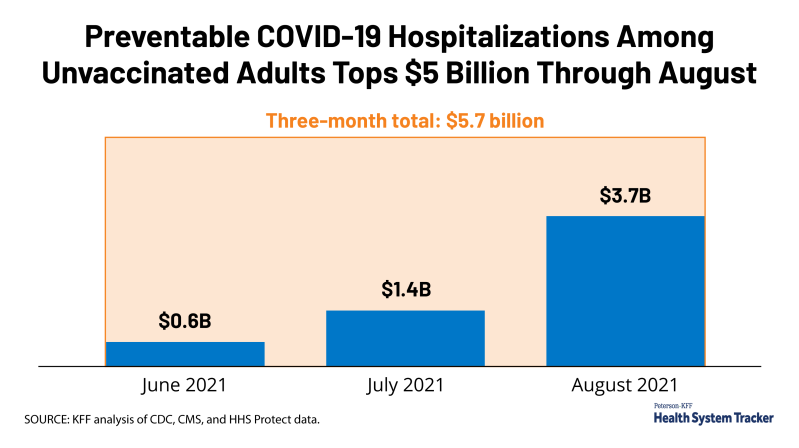 The estimates draw on KFF's analysis of U.S. Department of Health and Human Services data about COVID-19 hospital admissions, adjusted for admissions primarily for COVID-19, the share among unvaccinated patients and the share that likely could have been prevented if the patients were vaccinated, as well as other data estimating that each COVID hospitalization on average results in roughly $20,000 in hospital costs.
Only a small share of the cost of a COVID-19 hospitalization is typically paid directly by patients themselves. The rest is typically paid through insurers, including public programs like Medicare and Medicaid, and private insurance purchased by workers, businesses and individuals.
The full analysis, including its methodology, is available through the Peterson-KFF Health System Tracker, an online information hub that monitors and assesses the performance of the U.S. health system.