Nearly half (48%) of parents of vaccine-eligible children ages 12-17 now say their child has received at least one dose of a COVID-19 vaccine, a new KFF Vaccine Monitor report shows.
Another 15% of those parents now say they want to "wait and see" how the vaccine works for others before their adolescent gets it, while 4% say they would get vaccinated "only if required" for school or other activities. About one in five (21%) say their adolescent child would "definitely not" get a vaccine.

Largely fielded before Pfizer's Sept. 20 announcement about favorable results from its clinical trials for children ages 5-11, the new report shows a third (34%) of parents of children in that age group want their child to get vaccinated "right away" once eligible. A similar share (32%) wants to "wait and see," while a quarter (24%) say their children will "definitely not" get a COVID vaccine.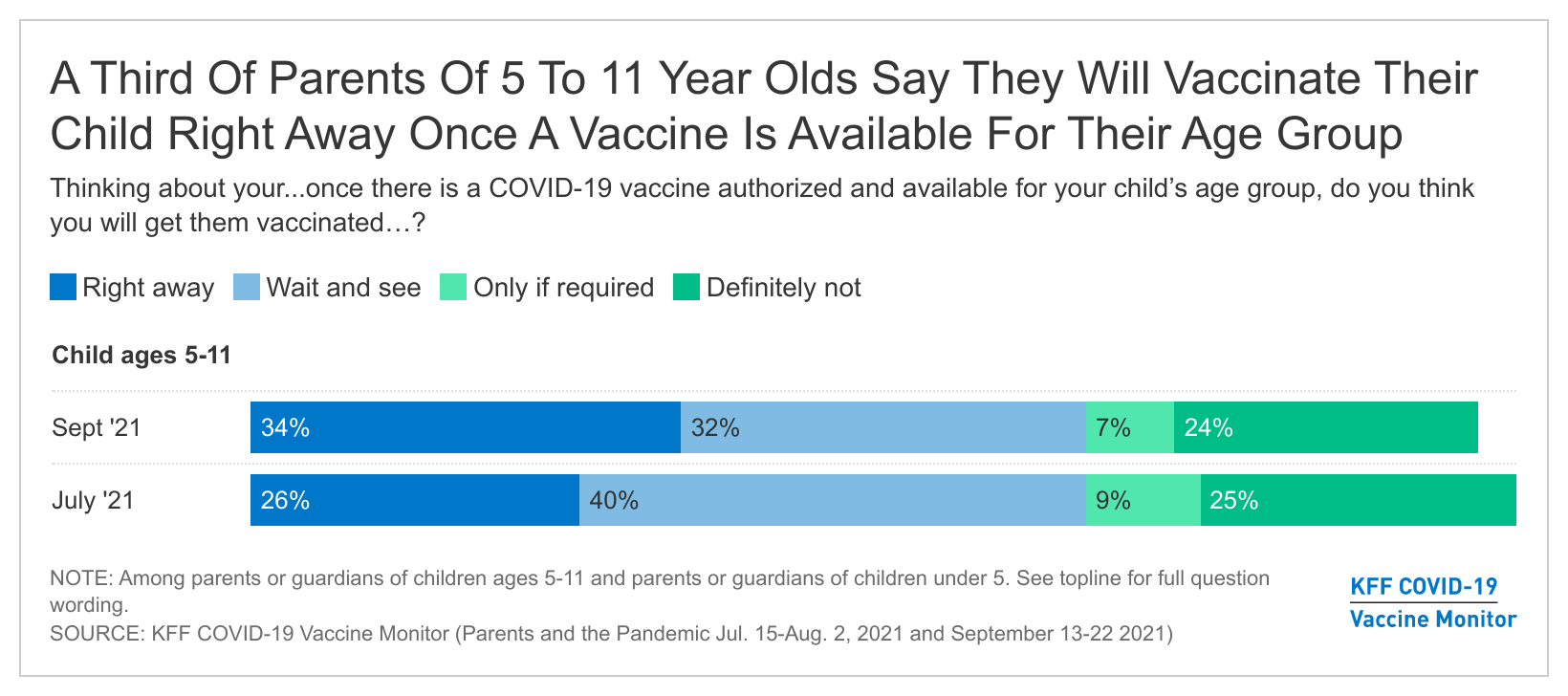 The report also highlights the toll that the COVID-19 pandemic is taking on students attending in-person classes this fall. Nearly a quarter (23%) of parents say that they have a child who has had to quarantine at home due to a possible COVID-19 exposure since the school year began. The includes 26% of parents with children ages 5-11 and 20% of parents with children ages 12-17.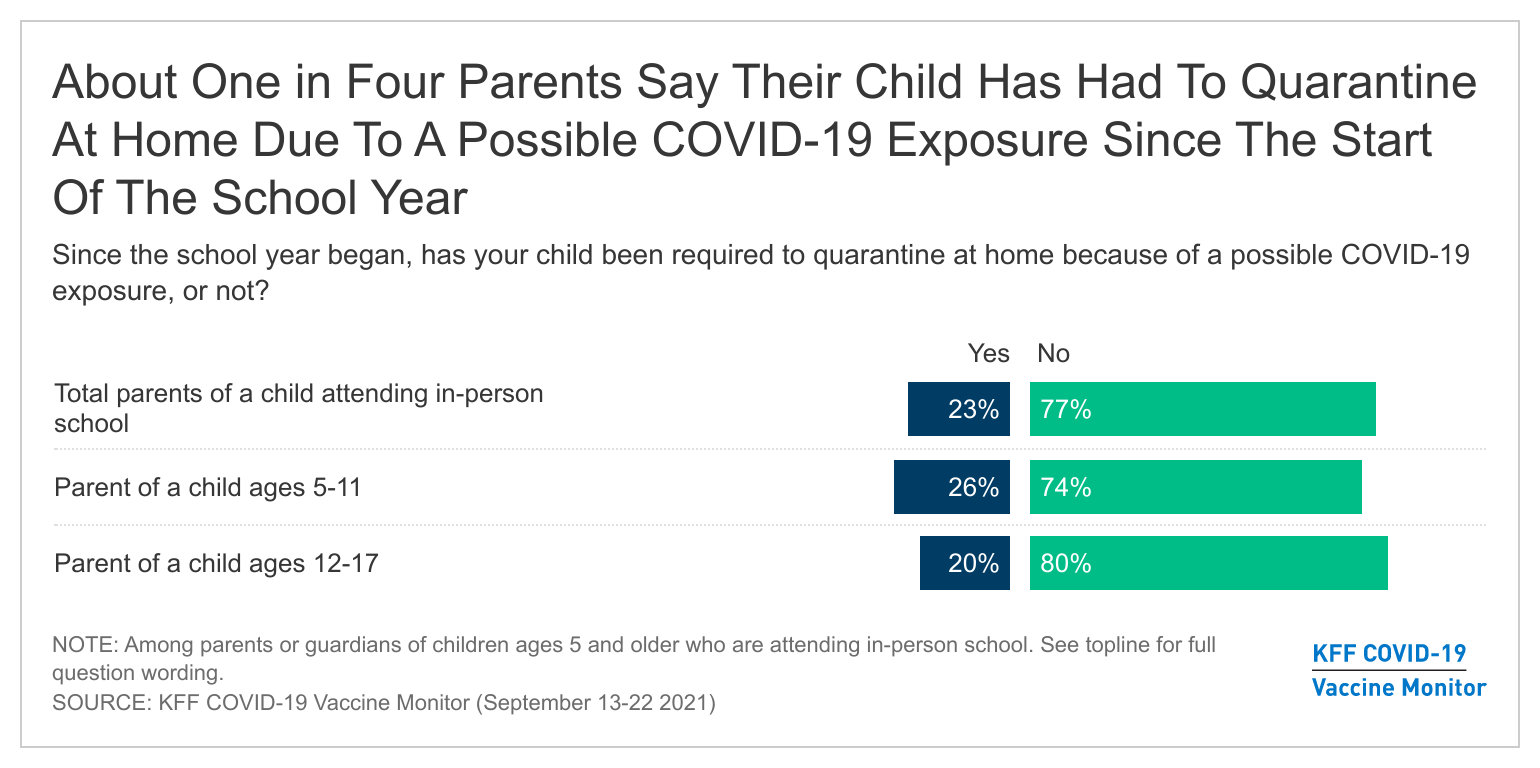 Most parents (58%) say K-12 schools should require students and staff to wear masks, regardless of their vaccination status, while more than a third (35%) say schools should have no mask requirements. Mothers are much more likely than fathers to favor a mask requirement for all students and staff (70% vs. 42%).
Among parents with a child attending in-person school, nearly seven in ten (69%) say their school is requiring all students and staff to wear masks, just one percent say masks are required only for unvaccinated individuals, and 28% say their school has no mask requirement. Most parents (73%) who say their child's school requires all students and staff to wear masks favor that policy.

Few parents of children attending in-person schools say their school offers routine testing for children who are not vaccinated (6%), and one in five (20%) say that it is offering optional testing.
Two-thirds (66%) of parents with a child attending in-person school say their school overall is doing about the right amount to limit the spread of COVID-19. Parents are somewhat more likely to say that their school is not doing enough (21%) than that their school is doing too much (11%).
Designed and analyzed by public opinion researchers at KFF, the KFF Vaccine Monitor survey was conducted from September 13-22 among a nationally representative random digit dial telephone sample of 1,519 adults, including oversamples of adults who are Black (306) or Hispanic (339). 414 parents were surveyed with a margin of error of plus or minus 6 percentage points. Interviews were conducted in English and Spanish by landline (171) and cell phone (1,348). The margin of sampling error is plus or minus 3 percentage points for the full sample. For results based on subgroups, the margin of sampling error may be higher.
The KFF COVID-19 Vaccine Monitor is an ongoing research project tracking the public's attitudes and experiences with COVID-19 vaccinations. Using a combination of surveys and qualitative research, this project tracks the dynamic nature of public opinion as vaccine development and distribution unfold, including vaccine confidence and acceptance, information needs, trusted messengers and messages, as well as the public's experiences with vaccination.