A new KFF analysis finds that only 1% of those in low-income countries have received at least one vaccine dose compared to 51% in high-income countries, highlighting the substantial vaccine inequities around the world. The analysis examines these inequities by country income level and by region, finding large differences for each.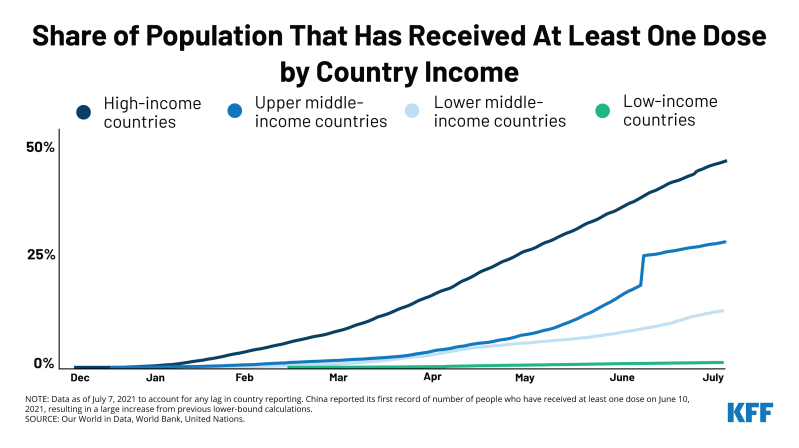 By region, Africa has the lowest coverage (2%) while Europe has the highest (40%), followed by the Americas (39%) and the Western Pacific (37%).
At the current pace of vaccinations, low-income countries are unlikely to meet the global vaccine targets set by the World Health Organization, World Trade Organization, International Monetary Fund, and World Bank of 40% coverage by the end of 2021, and 60% by mid-2022. Low-income countries would need to increase their daily vaccination rate by nearly 19 times to reach 40% coverage by the end of 2021. And while the Western Pacific, Europe, the Americas, and South-East Asia are ahead of schedule for reaching these vaccination goals, Africa would need to increase its rate of first dose administration by 8 times to reach 40% by the end of 2021.
The new analysis digs deeper into the growing equity gap and what this trend means for the future of global COVID-19 vaccination efforts. For additional information on the United States involvement in helping improve global COVID-19 vaccine equity, such as helping to expand vaccine manufacturing or waiving intellectual property restrictions on COVID-19 vaccine technologies, see the KFF brief on Global COVID-19 Vaccine Equity: U.S. Policy Options and Actions to Date.