Analysis: Rural Residents Stand Out as One of the Most Hesitant Groups to Get a COVID-19 Vaccine and Pose Special Challenges for the Mass Vaccination Efforts
Many in Rural America View Getting Vaccinated as a Personal Choice Rather Than a Societal Responsibility, and Half Say Severity of COVID-19 is Exaggerated
A new analysis of KFF COVID-19 Vaccine Monitor survey data finds that residents of rural America stand out as one of the groups most hesitant to get a COVID-19 vaccine and that their views about the pandemic could pose significant challenges for the nation's mass vaccination effort.
About a third (35%) of people living in rural areas say they probably or definitely would not get a COVID-19 vaccine that had been deemed safe and effective and was available for free, compared to about a quarter of suburban (27%) and urban residents (26%) who say the same.
Many factors are associated with an individual's willingness to get vaccinated, including their age, level of education, and, notably, political party identification, with Republicans much less likely to say they will get a coronavirus vaccine compared to Democrats and independents.
Even after controlling for these factors, however, people living in rural areas are more likely to be vaccine hesitant than suburban and urban residents. This, in part, may reflect rural residents' views of the pandemic.
While rural residents are just as likely as others to say they know someone who has tested positive or died from coronavirus, about four in ten (39%) rural residents say they are not worried that they or someone in their family will get sick from COVID-19 compared to 23% of urban residents and three in ten suburban residents.
Half (50%) say they believe the threat COVID-19 poses has been "generally exaggerated" in the news, a belief held by fewer urban (27%) and suburban (37%) residents.
Most rural residents (62%) view getting vaccinated as mostly a personal choice rather than part of everyone's responsibility to protect the health of others (36%). In contrast, most urban residents (55%) and nearly half of suburban residents (47%) view getting vaccinated as part of everyone's responsibility.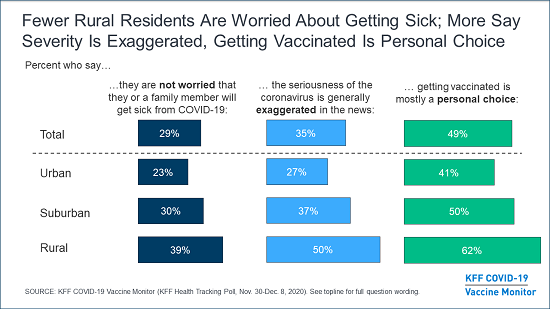 Who might change rural residents' views about a vaccine?
Similar to urban and suburban residents, the vast majority of rural residents (86%) say that they would trust vaccine information from their own doctor or health care providers. Smaller shares say they trust the FDA (68%), the CDC (66%), their local public health department (64%), Dr. Anthony Fauci (59%), or state government officials (55%).