From Accessing Health Care to Work, Childcare, and Caregiving, the COVID-19 Pandemic Continues to Disproportionately Impact Women
Since the start of the COVID-19 pandemic, gender-based disparities have been amplified, particularly for women of color and those who are low-income. Two new issue briefs, using data from the 2020 KFF Women's Health Survey that took place in November and December of 2020, examine women's experiences during COVID-19.
Women's Experiences with Health Care:
Women are more likely than men to forgo health care services during the pandemic, particularly women with health and economic challenges prior to the pandemic. Subsequently, these women reported experiencing worsening health conditions.
When asked about COVID-19 testing, women with private insurance (45%) and Medicaid (41%) were almost twice as likely to get a COVID-19 test than uninsured women (28%), which could reflect uncertainty about out-of-pocket costs for tests.
The share of people who have had a telemedicine visit has tripled during the pandemic compared to before the pandemic, with most people very satisfied with their telehealth experiences, suggesting telehealth services could continue to be a trusted approach for health care following the pandemic.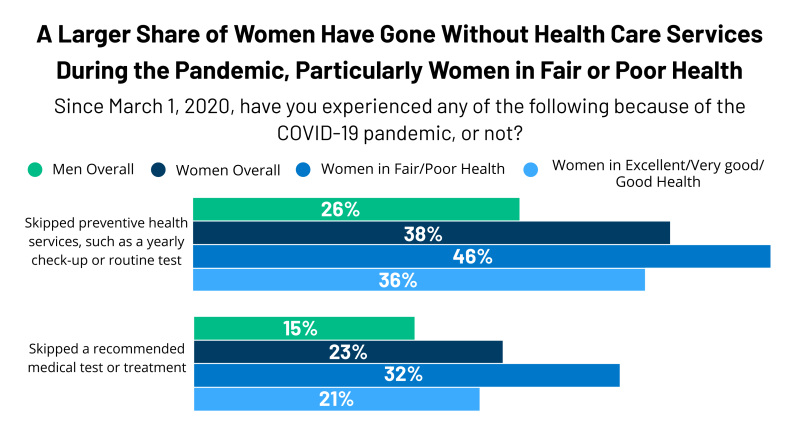 Family caregiving largely falls on women, resulting in increased responsibilities for mothers during the pandemic. One in ten women with young children quit their job because of the pandemic. Single mothers (17%) reported higher rates of quitting their job due to a child's school or daycare closing or feeling unsafe in their workplace than those who are married or have partners (9%).
One in four women took time off work because of COVID-19 illness within the family or because their child's school or daycare closed. Women were more likely than men to take time off, especially for school or daycare closures, with a disproportionate impact on low-income women. Over two-thirds of women who were low-income or part-time workers did not get any paid time off to address school or daycare closures.
Mothers of children under 18 are more likely than fathers to have experienced a negative impact on their mental health due to the pandemic (54% vs 35%), with one in five mothers characterizing the mental health impact as "major." However, only 16% of mothers have sought mental health care services during the pandemic.
For additional findings, read the full briefs, Women's Experiences with Health Care During the COVID-19 Pandemic and Women, Work, and Family During COVID-19. More results from the 2020 KFF Women's Health Survey will be released in the coming weeks.
Methodology
The KFF Women's Health Survey, conducted approximately every four years since 2001, provides a detailed look at a range of women's health care experiences, including health care costs and access, use of preventive and reproductive care, and caregiving responsibilities. The 2020 KFF Women's Health Survey surveyed a nationally representative sample of 3,661 women and 1,144 men ages 18-64 between November 19 and December 17, 2020.