These resources explain the current status of coverage for reproductive health issues and explore how the scope of that coverage is changing under the Trump Administration.
Featured Reproductive Health Resources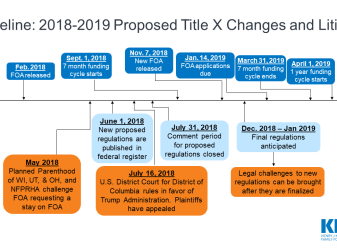 The Trump Administration has taken numerous steps to significantly alter the Title X program, the federal grant program that supports family planning services to low-income women. This brief provides an overview of the Title X program, discusses the new 2018 funding announcement and related litigation, and reviews the Trump Administration's proposed regulations and the implications of these changes.
Issue Brief
See More
This brief explains the contraceptive coverage rule under the ACA, the impact it has had on coverage, and how the new regulations issued by the Trump administration have changed the contraceptive coverage requirement for employers with religious and moral objections to contraception and the women who receive coverage through their plans.
Issue Brief
See More
---