State Health Facts
More than 800 up-to-date health indicators at the state level can be mapped, ranked, and downloaded. Learn more
Explore Custom State Reports
Create a custom report compiling data across health topics for a single state or multiple states.
See a sample report on opioid use disorder and opioid overdose deaths in select states.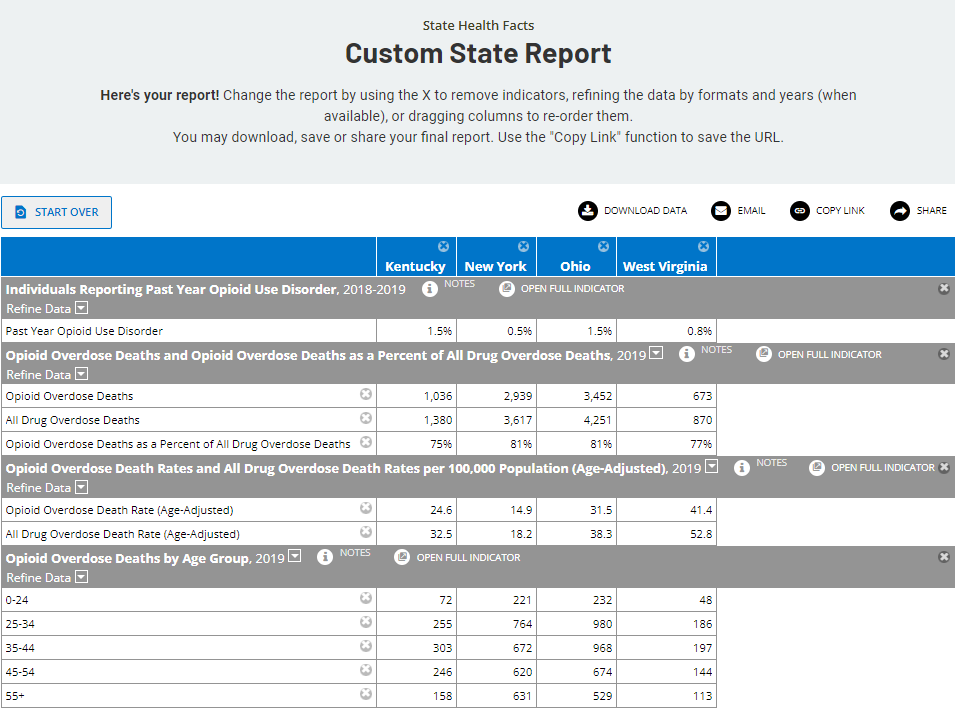 Explore Additional State-Level Data Tools
Women's Health Policy

Explore the latest national and state-specific data and policies on women's health. Topics include health status, insurance and Medicaid coverage, use of preventive services, sexual health, maternal and infant health, and abortion policies.

Medicaid

Track recent state actions to extend Medicaid postpartum coverage beyond the required 60 days.

Medicare

These state profiles show the number and characteristics of Medicare beneficiaries enrolled in the Medicare Savings Programs and Medicare's Part D Low-Income Subsidy program.
Medicaid

This Medicaid waiver tracker page aggregates tracking information on pending and approved Section 1115 Medicaid waivers. It includes resources such as an overview map and figure, detailed waiver topic tables, and explanatory briefs.

Medicaid

Delivery system and payment reform are dynamic and ever-evolving policy areas of state Medicaid programs; virtually every state has initiatives underway. This interactive is designed to provide users with an environmental scan of the activity.

Medicaid

This page displays an interactive map of the current status of state decisions on the Affordable Care Act's Medicaid expansion. Additional Medicaid expansion resources are listed (with links) below the map.