Individual market insurers are expecting to return to consumers a record total of about $800 million in excess premiums for 2018, a year in which the insurance companies posted their best annual financial performance under the Affordable Care Act to date, finds a new KFF analysis.
The rebates to more than 3 million eligible individual market consumers, based on preliminary estimates by insurers, must be issued by September 30. They are the result of the insurance companies not meeting the ACA's medical loss ratio threshold, which requires insurers to spend at least 80 percent of premium revenues on health care claims or quality improvement activities.
On average, premiums per enrollee in the individual market grew 26 percent from 2017 to 2018, to $559, while per person claims grew only 7 percent, to $392. The analysis finds insurance companies posted their strongest performance in the individual market under the ACA to date, using two different financial indicators:
The average share of health premiums paid out in claims (or loss ratio) fell to 70 percent in 2018, down from 82 percent in 2017, 96 percent in 2016 and 103 percent in 2015.
Average premiums collected in excess of claims (or gross margins) reached $167 per enrollee per month, up from comparable figures of $79 in 2017, $14 in 2016 and -$9 in 2015.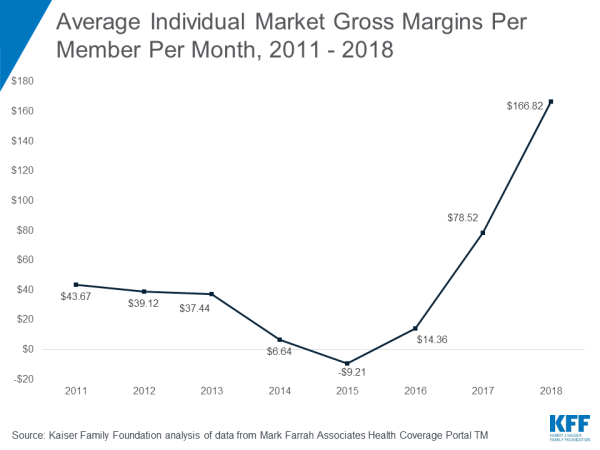 Financial results for 2018 suggest that insurers in the individual market are generally returning to or exceeding profitability levels seen before 2014, when ACA insurance market rules took effect, including the requirement to cover people with pre-existing conditions.
Premium and claims data from 2018 support the notion that premium increases in 2018 were in large part compensating for uncertainty and policy changes such as the cessation of cost sharing subsidy payments, with some insurers over-correcting and raising premiums more than necessary to cover claims and administrative costs and earn a reasonable profit, the analysis finds. Even though repeal of the individual mandate penalty and the Trump administration's push to expand loosely regulated insurance options had an upward effect on 2019 premiums, increases were mitigated by the prior year's over-correction. On average, premiums went down a bit in 2019.
The analysis is based on insurer-reported financial data, including information from the National Association of Insurance Commissioners, compiled and maintained by Mark Farrah Associates.