With more than 1,000 lung injuries and two dozen deaths nationally associated with vaping and e-cigarettes, a new KFF poll finds a narrow majority (52%) of the public supports a ban on the sale of fruit- and other flavored e-cigarettes, while 44% oppose it.
When asked whether all e-cigarettes should be banned, including those that aren't flavored, the public is almost evenly divided, with 49% favoring such a step and 47% opposing it. Majorities of younger adults (ages 18-29) oppose both a ban on flavored e-cigarettes (63%) and a ban on all e-cigarettes (62%).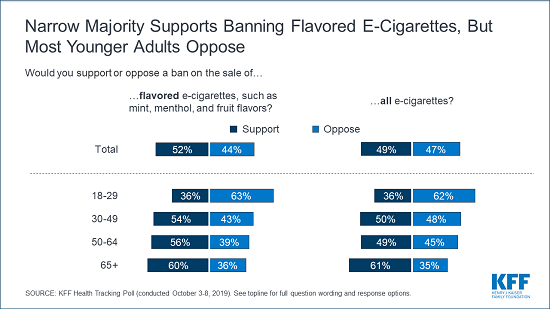 The findings come as the Trump administration, Massachusetts, Michigan, Utah and other state and local governments are seeking to limit or ban the sale of e-cigarettes in response to the multi-state outbreak of lung injuries and concerns about teenagers' use of the products.
Eight in 10 (80%) Americans say they have heard at least something about illnesses related to e-cigarettes and vaping, and about seven in 10 (69%) say they have heard at least some about state and local efforts to limit sales. Fewer (47%) say they heard at least something about Trump administration efforts to limit the sales of e-cigarettes.
The poll also finds a large majority (81%) believe teenagers who would otherwise not smoke cigarettes are using flavored e-cigarettes. This includes similar shares across parties and age groups.
At the same time, three in 10 (31%) of adults say they believe e-cigarettes are a safer alternative for tobacco smokers who are trying to quit. This includes nearly half (45%) of those under 30 years old.
These attitudes intertwine with people's views on banning e-cigarettes. Majorities of those who say that teenagers who otherwise have not smoked are vaping or that they are not a safer alternative to tobacco support a ban, while most who hold the opposite views oppose a ban.
Designed and analyzed by public opinion researchers at KFF, the poll was conducted October 3-8, 2019 among a nationally representative random digit dial telephone sample of 1,205 adults. Interviews were conducted in English and Spanish by landline (300) and cell phone (905). The margin of sampling error is plus or minus 3 percentage points for the full sample. For results based on subgroups, the margin of sampling error may be higher.