Almost two-thirds of Medicare beneficiaries (65%), or nearly 37 million people, do not have dental coverage and many go without needed care, according to a new KFF brief on dental coverage and costs for Medicare beneficiaries. Rates are even higher among black and Hispanic beneficiaries, and those with low incomes.
Medicare does not cover routine preventive dental care or more expensive dental services that are often needed by older adults. Lack of dental care can lead to delayed diagnosis of serious health conditions, preventable infections and complications, chronic pain, and costly emergency room visits.
About one-third of all Medicare beneficiaries have access to some dental coverage through Medicare Advantage, Medicaid or private dental plans. Like many private plans for working-age adults, these plans tend to cover most lower-cost preventive services, but have less generous coverage for more expensive services, and are often subject to annual dollar caps on covered services. Even with dental insurance, people of all ages can face high out-of-pocket costs for dental treatments.
The new analysis finds that almost half of all Medicare beneficiaries did not have a dental visit within the past year (49%). Roughly one in five beneficiaries (19%) who used dental services spent more than $1,000 out-of-pocket on dental care in 2016.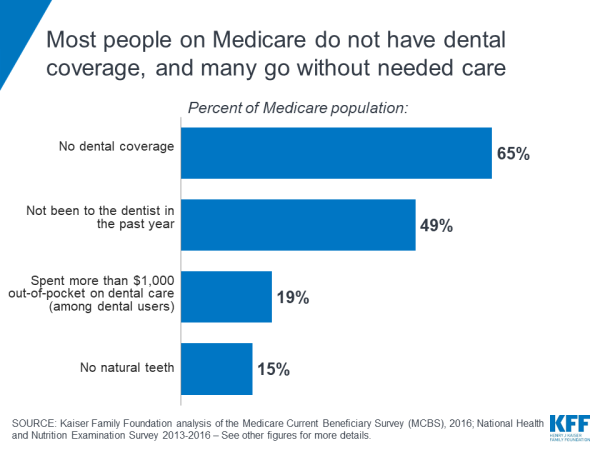 The brief reviews the state of oral health for people on Medicare. It describes the consequences of going without dental care, current sources of coverage, use of dental services and out-of-pocket spending. These ongoing challenges have heightened interest among policymakers in finding ways to make dental care more affordable and accessible for the Medicare population.