A new KFF analysis finds that a relatively small share of drugs, mainly those without generic or biosimilar competitors, accounted for a disproportionate share of prescription drug spending in Medicare in 2019. This finding suggests that recent proposals that focus on prices for a limited number of high-cost drugs could achieve significant savings.
The 250 top-selling drugs in Medicare Part D with one manufacturer and no generic or biosimilar competition – or roughly 7 percent of the more than 3,500 Part D covered drugs — accounted for 60 percent of the net total Part D spending of $145 billion in 2019, the analysis finds. Part D is Medicare's voluntary benefit that covers retail prescription drugs for 46 million enrollees in 2020.
Similarly in Medicare Part B, the top 50 covered drugs – or 8.5 percent of all Part B covered drugs — accounted for 80 percent of total Part B drug spending of $37 billion in 2019. Medicare Part B pays for prescription drugs administered by physicians and other providers in outpatient settings for conditions such as cancer and rheumatoid arthritis.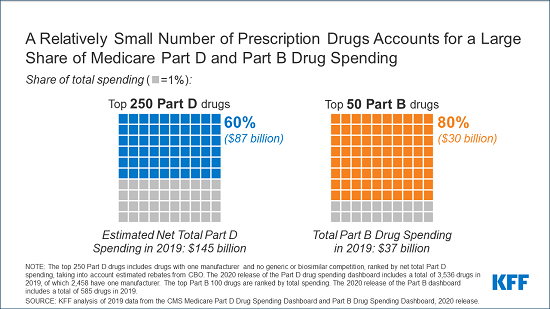 The findings inform ongoing policy debates about policies to rein in prescription drug prices, such as proposals to allow the government to negotiate drug prices (Part D) or peg payments to international prices (Part B), if such changes were applied to a limited number of drugs. Focusing drug price negotiation or reference pricing on a subset of high-priced drugs could leave some savings on the table, but might also be a more efficient use of administrative resources.
For more data and analyses related to Medicare and prescription drugs, visit kff.org.