Most of Those Without Health Coverage Report Knowing Little or Nothing About the Insurance Marketplaces or About the Financial Assistance Available to Low- and Moderate-Income Families
Broader Public Opinion on the Law Still Tilts Unfavorably, Though Gap Has Narrowed Since July and Returned to Pre-Rollout Levels
With the second annual open enrollment period under the Affordable Care Act set to begin Nov. 15, the latest Kaiser Family Foundation tracking poll finds major gaps in the awareness of the nation's uninsured residents who are a primary target for enrollment and outreach efforts.
The survey finds nine in ten (89%) of the uninsured are unaware that open enrollment begins in November — including, 76 percent who say they do not know when open enrollment begins and another 13 percent who name a start date other than November 2014.
In addition, two-thirds of the uninsured say they know "only a little" or "nothing at all" about the marketplaces where people who don't get coverage through their employers can shop for insurance and just over half (53 percent) of the uninsured are unaware of the financial assistance available to help low- and moderate-income individuals purchase insurance.
In spite of the significant gaps in awareness about open enrollment, most (59%) of the uninsured say they will get covered in the next few months, including 15 percent who expect to get coverage from an employer, 15 percent who expect to purchase it themselves (either from a private insurance company or through a marketplace), and 8 percent who expect to get it through Medicaid. One in five (21%) say they expect to get coverage but are unsure where.
Most of those who expect to remain uninsured say it is because they think they will not be able to find an affordable plan (18% of the uninsured overall) or they don't want to be forced to buy anything (12%, including 3% who say they would rather pay the fine than pay for coverage).
This month's tracking poll also finds few changes in the public's broader views of the ACA, with more people continuing to view it unfavorably (43%) than favorably (36%).  The gap, though, has shrunk since July, when unfavorable views rose to 53%, and public opinion now has returned to about the levels it was last year at this time as the first open enrollment period began.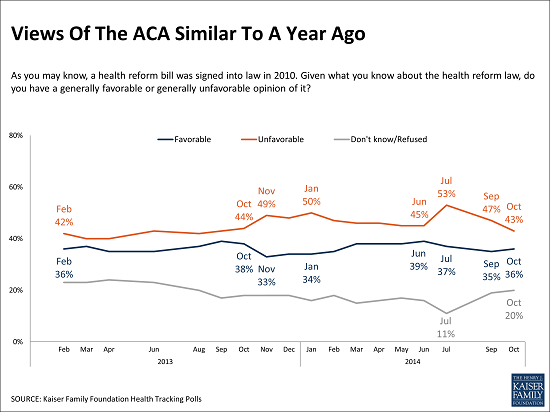 At the same time, nearly two-thirds of the public (64%) would rather see their representative in Congress work to improve the law than repeal and replace it with something else (33%). A large majority of Democrats (86%) want their representative to work to improve the law while a majority of Republicans want their representative to work to repeal and replace it (65%).
Other findings from the poll include:
Most Americans (56%) say the health care law has had no direct impact on their families. For those who report an impact, more say the law has hurt them (26%) than say it has helped them (16%). Republicans are more likely to say they have been hurt by the law (48%), Democrats are more likely to say they have been helped (28%), and independents fall in the middle, though more independents feel they have been hurt than helped
Among registered voters, the ACA does not stand out as a top issue for the midterm elections.  While more than a quarter (27%) say the health care law will be "extremely" important to their vote, just 8 percent choose it as the MOST important issue, behind the economy (16%) and dissatisfaction with government (12%), and a similar level as education (10%), the situation in Iraq and Syria (9%) and immigration (6%).
Across party lines, the ACA ranks fourth as voters' most important issue for Democrats, Republicans, and independents alike.
METHODOLOGY
The latest tracking poll was designed and analyzed by public opinion researchers at the Kaiser Family Foundation and was conducted from October 8-14, 2014 among a nationally representative random digit dial telephone sample of 1,503 adults ages 18 and older. Interviews were conducted in English and Spanish by landline (751) and cell phone (752). The margin of sampling error is plus or minus 3 percentage points for the full sample and plus or minus 9 percentage points for the uninsured.  For results based on subgroups, the margin of sampling error may be higher.