Democrats Split on Whether to Fix the ACA or Push for a National Health Plan; Few Democratic Voters Say a National Health Plan is Their Top Issue for the Midterms
As policymakers weigh strategies to address the high cost of prescription drugs, the latest Kaiser Health Tracking Poll finds that a large majority of the public (72%) view pharmaceutical companies as having too much influence in Washington – more than say the same about the National Rifle Association (NRA).
Drug makers rank among the top tier of groups that Americans say have too much influence in Washington, along with large businesses (76%), Wall Street (69%), and health insurance companies (66%). All of these organizations rank higher than the NRA (52%), which has been at the center of the debate about school safety and gun laws following recent school shootings and subsequent protests.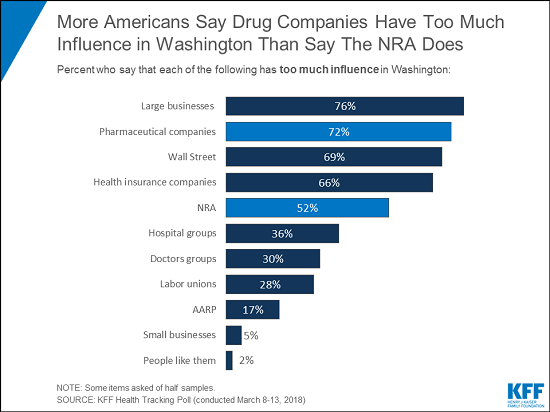 One reason why drug companies rank so high on this list is that both Democrats (65%) and Republicans (74%) see them as having too much influence in Washington. In contrast, Democrats are far more likely than Republicans to say the NRA has too much influence (73% compared to 21%).
Across Parties, Majorities Say the Administration and Congress Aren't Doing Enough on Drug Costs
Most of the public (80%) view prescription drug costs as unreasonable, and about half (52%) say passing legislation to bring down prescription costs should be a "top priority" for President Trump and Congress – more than say the same about five other issues tested, including passing an infrastructure bill (45%), ending the prescription opioid epidemic (42%), and repealing the Affordable Care Act (28%). Reducing the cost of prescription drugs continues to be a top priority among the public during President Trump's administration as noted in previous KFF surveys.
At the same time, a minority of the public (39%) expresses confidence that President Trump and his administration will deliver on their promises to lower drug costs, and an even smaller share (28%) say that they are confident the administration will deliver on its promise to end the opioid epidemic.
Overall, at least three in four say that Congressional Republicans (83%), Congressional Democrats (82%), and President Trump and his administration (77%) aren't doing enough to bring drug costs down.
Unlike other issues such as repealing the Affordable Care Act or creating a national health plan, the poll does not find a sharp partisan divide on this perception. Most Democrats (77%) say that Congressional Democrats aren't doing enough, while most Republicans say that Congressional Republicans (72%) and President Trump and his administration (56%) aren't doing enough.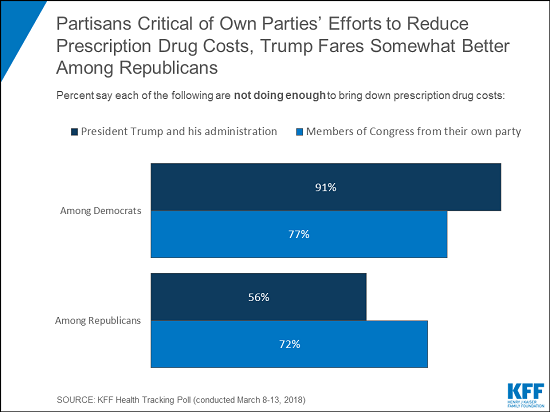 Democrats Divided on What Their Party Should Focus On Next, But Few Say National Health Plan Will Be Major Factor in Their 2018 Vote
Looking ahead to the 2018 midterms, the polling at this point suggests that candidates' positions on a national health plan are not likely to play a major role in the elections. While Democrats are divided in whether their party should focus on improving the way the ACA is working (46%) or focus on passing a national health care plan (48%), few Democratic voters (11%) say a candidate's position on a national health plan will be the "single most important factor" in their vote.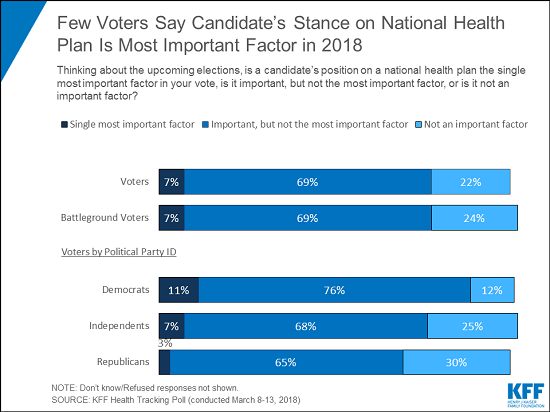 While still not a major campaign issue, the poll finds that most of the public (59%) favor a national health plan, or Medicare-for-all, in which all Americans would get their insurance from a single government plan. This includes a majority of Democrats (75%) and independents (58%), and one-third of Republicans (36%).
Support for such a proposal increases among the overall public (75%) and among partisans (87% of Democrats, 74% of independents, and 64% of Republicans) when framed as an option for anyone who wants it, but allows people who currently have other forms of coverage to keep it. It is unclear how support would fare if these proposals became part of the larger public debate as previous KFF polling has found the public's attitudes can be quite malleable.
Designed and analyzed by public opinion researchers at the Kaiser Family Foundation, the poll was conducted from March 8-13, 2018 among a nationally representative random digit dial telephone sample of 1,212 adults. Interviews were conducted in English and Spanish by landline (421) and cell phone (791). The margin of sampling error is plus or minus 3 percentage points for the full sample. For results based on subgroups, the margin of sampling error may be higher.