Views Mixed on Changes to Definition of Full-Time Work For Employer Mandate, with More Opposed than Supportive, And a Third Saying They Don't Know Enough to Say
Public Remains Divided Over Next Steps for the Affordable Care Act, Though Most Expect Major or Minor Changes under GOP Congress this Year
Though few Americans are paying attention to the pending Supreme Court case over whether the health care law says that people in all states can get financial help to buy health insurance, most say they would want Congress and their state to act to fix potential gaps should the Supreme Court rule in favor of the plaintiffs, the January Kaiser Health Tracking Poll finds.
The Supreme Court is set to hear arguments this March in the King v. Burwell case, which addresses whether low- and moderate-income residents in the 37 states relying on the federal healthcare.gov marketplace are eligible for tax credits to purchase insurance, or whether such assistance can only go to residents of states with their own state-run marketplaces.  More than 13 million people in potentially affected states could lose subsidies in 2016 depending on the Supreme Court's ruling.
In an initial reaction to what Congress should do if the Supreme Court limits this financial assistance to residents in states with state-based marketplaces, nearly two thirds of the public (64%) say Congress should pass a law making subsidies available in all states. Majorities of Democrats and independents favor such action, along with 40 percent of Republicans.  In comparison, 27 percent would oppose Congress taking such action.
In addition, a majority (59%) of residents in the healthcare.gov states say they would want their state to act to operate its own exchange if the Supreme Court limits the financial assistance to eligible residents in states with state-run exchanges. This view prevails among majorities of Democrats (61%), independents (63%) and Republicans (51%) across the potentially affected states. In comparison, 29 percent of residents in these states, including 34 percent of Republicans, would oppose such a step.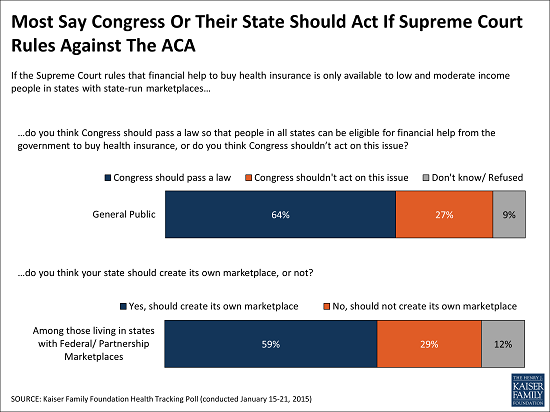 The poll finds few people are paying attention to the King v. Burwell case at this time.  More than half the public (56%) says they have heard "nothing at all" about the case, and another three in 10 say they have heard "only a little."  Just 14 percent say they have heard "some" or "a lot" about the case.
With a new Republican majority controlling both houses of Congress, the public remains divided on what they would like Congress to do next with the Affordable Care Act (ACA) overall.  About a third (32%) say they favor repeal, another 14 percent would like the law scaled back, 19 percent want the law to move forward as is, and nearly a quarter (23%) would like to see the law expanded. As with views of the law overall, opinions diverge sharply by political party.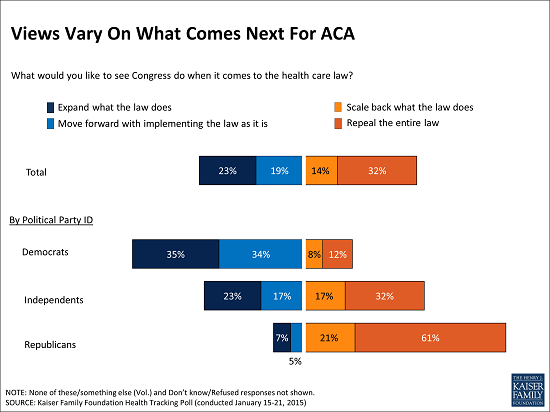 When asked what they think will happen this year with the ACA, Republicans, Democrats and independents have similar expectations.  Across parties, most believe it will undergo major (31%) or minor (32%) changes, while relatively few (12%) say it will be repealed entirely.  About one in five (21%) say they expect the law to continue as is.
The House this month already passed one bill that would change the ACA's definition of full-time work from 30 hours per week to 40 hours per week.  The threshold is important because the ACA requires large employers to offer health benefits to full-time workers.
When asked about this change, more oppose it (40%) than support it (26%), while a third (33%) say they don't know enough about it to say.  However, the poll finds opinion on this change is somewhat fluid, with some people on both sides changing their view when presented with some of the other side's argument.
Other findings from the poll include:
A majority (54%) says they don't know enough about a medical device tax included in the ACA to say whether they support or oppose repealing it, as some lawmakers have proposed.  Among those with an opinion, twice as many favor repeal (30%) as oppose it (15%).
Most see lawmakers' proposals to change the ACA as an attempt to gain political advantage (63%) rather than to improve the law itself (29%).  Large majorities of Democrats and independents feel this way, while Republicans are divided.
The public's overall views on the ACA haven't changed in the past few months, with slightly more viewing the law unfavorably (46%) than favorably (40%), with wide gaps by party identification.  Republicans are almost twice as likely to say they feel "very unfavorable" toward the law than Democrats are to say they feel "very favorable" (61% v. 35%).
This month's Kaiser Health Policy News Index finds fewer than 3 in ten report paying attention to recent health policy news stories; considerably less than the shares who report following national and international news stories such as tension between the police and the mayor in New York City (67%) and the Charlie Hebdo attack in Paris (64%).
The latest tracking poll was designed and analyzed by public opinion researchers at the Kaiser Family Foundation and was conducted from January 15-21, 2015 among a nationally representative random digit dial telephone sample of 1,503 adults ages 18 and older. Interviews were conducted in English and Spanish by landline (751) and cell phone (752). The margin of sampling error is plus or minus 3 percentage points for the full sample. For results based on other subgroups, the margin of sampling error may be higher.