Most Democrats Like Medicare-for-All, But Very Few Say the Issue Will Drive Their Votes in the 2016 Elections
Similar to Last Month, More Hold Unfavorable Views of the ACA than Favorable Ones
The Affordable Care Act's third open enrollment period will end on Jan. 31, but the latest Kaiser Health Tracking Poll finds that only a small share of people without health insurance realize it.
Just 7 percent of the uninsured correctly identify January as the deadline to enroll; another 20 percent say the deadline is at the end of 2015, while everyone else either says they don't know, gives another date or says the deadline has already passed.
People without health insurance remain a key outreach target for the government, outreach groups, and insurers, and the poll finds one in five (20%) report that over the past six months they have personally been contacted by someone about signing up for coverage.
The majority (65%) of the uninsured think they are personally required to have health insurance, though about a quarter (27%) say they don't think the requirement applies to them personally. (Some in fact may be exempt under specific provisions of the law.)
When asked why they have not personally purchased health insurance this year, nearly half of the uninsured (46%) say they have tried to get coverage but that it was too expensive. Relatively few cite other reasons, including 9 percent who say they'd rather pay a fine than pay for insurance.
Most of the uninsured (55%) say they plan to get health insurance in the next few months. Some may in fact be in the midst of a brief period without insurance; however, a majority (55%) say that they have been uninsured for at least two years.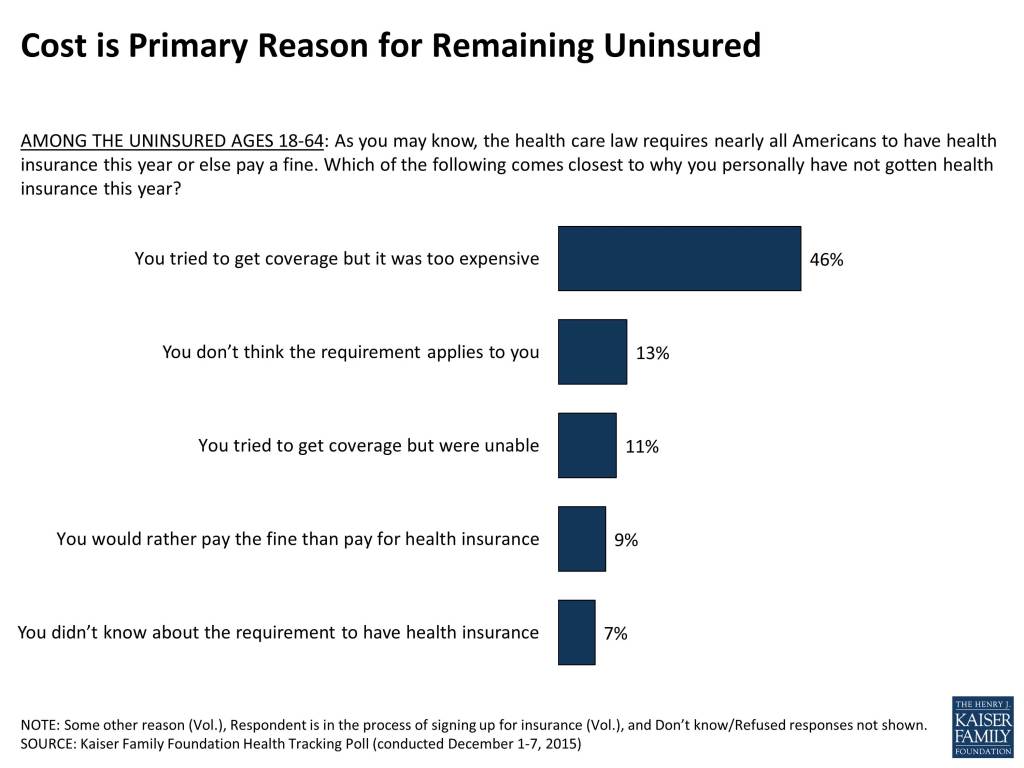 Recently Democratic presidential candidates Hillary Clinton and Bernie Sanders debated the idea of "Medicare-for-all," which involves creating a national health plan in which all Americans would get their insurance through an expanded version of the Medicare program. A large majority of Democrats (81%) support the idea of Medicare-for-all, as do most independents (60%), while most Republicans (63%) oppose the idea. The poll did not ask about details or tradeoffs.
At the same time, few Democrats say the issue will be the driving force behind their vote: just 5 percent of Democrats say that it will be the single most important factor in their presidential vote. A third of Democrats (34%) say it will be very important, but not the most important factor, while others say it will be one of many factors they will consider (36%) or that it won't matter at all (5%). Future polls may explore the issue in greater depth.
As the U.S. Senate voted to repeal the Affordable Care Act (ACA) earlier this month, more of the public views the health care law unfavorably (46%) than favorably (40%), statistically unchanged from last month when a gap reopened between unfavorable and favorable views. The public also remains divided over what Congress should do next with the law, with just over a third (35%) supporting repeal and others favoring scaling back the law (14%), implementing it as is (18%) or expanding what the law does (22%).
Half (51%) of the public says they have not been personally impacted by the law, though more say they have been hurt by the law than say they have been helped (29% and 17% respectively). These perceptions continue to vary starkly by party identification.
The poll was designed and analyzed by public opinion researchers at the Kaiser Family Foundation and was conducted from Dec. 1 to 7, 2015 among a nationally representative random digit dial telephone sample of 1,202. Interviews were conducted in English and Spanish by landline (480) and cell phone (722). The margin of sampling error is plus or minus 3 percentage points for the full sample. For results based on subgroups, the margin of sampling error may be higher.