On September 6, 2017, Hurricane Irma hit the U.S. Virgin Islands followed by Hurricane Maria less than two weeks later. On September 20, 2017, Maria then made landfall in Puerto Rico as a Category 4 storm, the strongest hurricane to hit the island.  These two storms caused significant, widespread damage to these U.S. territories. These resources examine various aspects of the ongoing recovery efforts in these territories, including infrastructure, public health and health care challenges, as well as public opinion on the recovery effort. Also available are databases with information specific to
Puerto Rico
and the
USVI
in a variety of areas, inlcuding demographics and the economy, health status, Medicaid, minority health and women's health.
Featured Puerto Rico/Virgin Islands Resources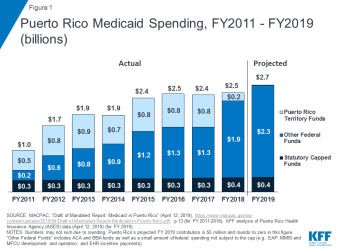 This brief provides an overview of the status of the health care systems and Medicaid programs in Puerto Rico and the U.S. Virgin Islands (USVI) about one and a half years after Hurricanes Irma and Maria struck the islands in September 2017. The hurricanes exacerbated the territories' existing economic and health care challenges by accelerating outmigration of residents and health care providers and destroying homes, schools, health care facilities, and other infrastructure. After the storms, the territories' Medicaid programs have served as important resources for addressing residents' health care needs, but they have operated under longstanding financing challenges. This brief focuses on these challenges and includes KFF analysis of the implications for the territories' Medicaid program finances, as most of the temporary federal Medicaid funds provided through the Affordable Care Act (ACA) and disaster relief are set to expire at the end of September 2019. The other U.S. territories (American Samoa, the Commonwealth of the Northern Mariana Islands, and Guam) also face challenges tied to the scheduled expiration of ACA funds.
Issue Brief
See More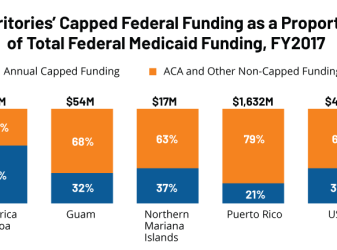 This brief draws on a survey of and interviews with Medicaid officials in U.S. Territories, as well as other research, to examine key issues and trends in their Medicaid programs. Territories differ from the states on key demographic, economic, and health status indicators. Unlike in the states, where federal Medicaid funding is not capped, and the federal share varies based on states' per capita income, Medicaid in the territories is subject to a statutory cap and a fixed federal matching rate.
Issue Brief
See More
---