The Peterson-KFF Health System Tracker provides clear, up-to-date information on trends, drivers and issues that impact the performance of the system. It also illustrates how the U.S. is performing relative to other countries and how different parts of the system are performing relative to one another. A partnership of the Peterson Center on Healthcare and the KFF, the Tracker's work goal places a heavy emphasis on data and evidence, addressing key questions through collections of charts, which provide data with additional context and synthesis of the latest research and developments. The Tracker also provide regular insight briefs for a more in-depth look at topical questions.
Featured Peterson-Kaiser Tracker Resources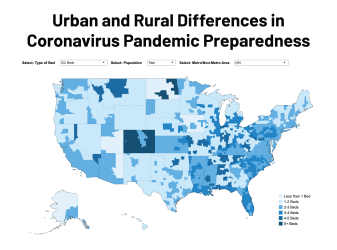 The coronavirus outbreak has hit densely populated urban areas of the United States first and hardest. Some health systems have experienced surges of patients, raising concerns that there are not enough hospital beds, staffing, and equipment. The novel coronavirus was slower to spread to rural areas in the U.S., but…
Issue Brief
See More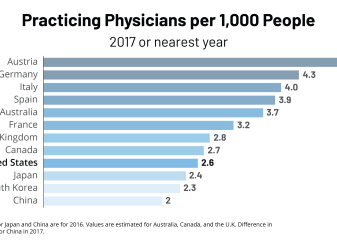 Compared to most similarly large and wealthy countries, the U.S. has fewer practicing physicians per capita but has a similar number of licensed nurses per capita. Looking specifically at the hospital setting, the U.S. has more hospital-based employees per capita than most other comparable countries, but nearly half of these hospital workers are non-clinical staff.
Issue Brief
See More
---