Small Employers and Health Insurance and State Reforms of Small Group Health Insurance – Fact Sheet
State Reforms of Small Group Health Insurance
Between 1989 and 1995, 45 states enacted laws to make health insurance more accessible and attractive to small businesses. The small group market was targeted for reform because about half of all uninsured workers are either self-employed or working in firms with fewer than 25 employees (EBRI, 1996).
The problem is that only about half of all small firms offer health insurance (Figure 1). In 1995, 53% of small businesses (<50 employees) offered health benefits, and while this is up from 1989 when only 41% offered coverage, it is still much lower than health coverage among larger firms.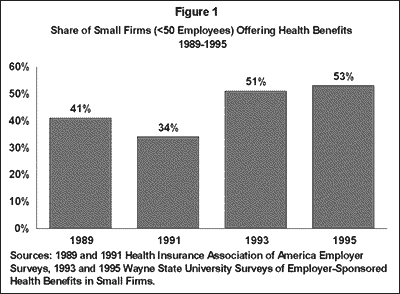 Many insurers are willing to sell coverage to small firms, but some insurer practices in the small group market have drawn concern. Some companies refused to sell policies to businesses in specific "high-risk" industries for example, or to firms with fewer than 10 employees. Also, because insurers tended to base premiums for small groups on the medical histories of prospective enrollees, some small businesses have reported that the poor health of their employees or employees' dependents resulted in their inability to qualify for coverage.
Although these problems exist, they are not widespread. Most small firms say that they can get coverage if they want it. More than three-quarters (of both insured and uninsured small firms) say that they have been solicited to buy health insurance in the last six months, and more than a third indicate that they have received at least six or more inquires.
Three General Types of Small Group Reform
"Bare-bones" policies.
These laws allow insurers to sell "bare-bones" insurance to certain classes of small firms, typically those newly entering the group coverage market. The policies are dubbed "bare-bones" because they are usually exempt from most mandated benefit laws and premium taxes, which allows small firms to purchase basic coverage at lower premiums.
Premium regulations.
Premium rating bands or requirements that insurers follow community rating are two examples of such regulations. These rules are intended to narrow the range in premiums, so that coverage will be more affordable for higher-risk firms.
Standards for underwriting and contracting practices.
These are designed to make coverage both more attractive and available to employers. Included under this category are laws which:
limit the non-issue of policies to certain types of firms,
guarantee the renewability of employer coverage,
allow insured persons to move between plans without having to satisfy new pre-existing condition clauses, and
limit initial waiting periods that workers must satisfy for coverage of their pre-existing conditions.
The most common reforms are listed in Figure 2 with the number of states that have enacted them. In many cases, the state enacted a small package of measures in 1991 or 1992 and then adopted additional reforms a couple of years later. By 1995, most states had enacted all of the reforms listed here.
Figure 2
Small Group Reforms at the State Level Number of States with the Measure as of: Type of State Legislative Reform: '89 '91 '93 '95 Bare-Bones Insurance Plans Can be Sold 1 9 31 43