The Peterson-KFF Health System Tracker provides clear, up-to-date information on trends, drivers and issues that impact the performance of the system. It also illustrates how the U.S. is performing relative to other countries and how different parts of the system are performing relative to one another. A partnership of the Peterson Center on Healthcare and the KFF, the Tracker's work goal places a heavy emphasis on data and evidence, addressing key questions through collections of charts, which provide data with additional context and synthesis of the latest research and developments. The Tracker also provide regular insight briefs for a more in-depth look at topical questions.
Featured Peterson-KFF Resources
This updated analysis for the Peterson-KFF Health System Tracker estimates that the preventable costs of treating unvaccinated patients in hospitals total $3.7 billion in August, almost twice the estimates for June and July combined. The three-month total now stand at an estimated $5.7 billion.
Issue Brief
See More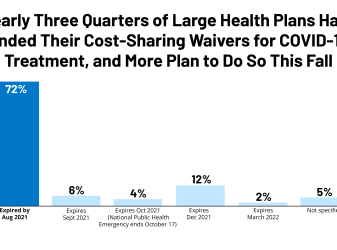 This analysis finds nearly three quarters of the largest health plans in each state are no longer waiving enrollees' cost-sharing requirements for COVID-19 treatment as of August 2021. Insurers largely waived those costs early in the pandemic, before safe and effetive vaccines were available.
Issue Brief
See More
---