President Donald Trump and the GOP congressional leaders have talked about modernizing Medicare, including a proposal from House Republicans to create a premium-support system for Medicare.  In the wake of passage of the GOP tax bill, which is expected to add to the national debt, there may be a focus on reining in the cost of entitlement programs such as Medicare, which may have significant implications for the Medicare program and its beneficiaries. The Trump administration also has shown interest in prescription drug spending in Medicare as well as in Medicare delivery system reform efforts such as Accountable Care Organizations, bundled payments and medical homes. Medicare Advantage now covers 1 in 3 Medicare beneficiaries and recent trends toward consolidation among insurers could have implications for beneficiaries.
Featured Medicare's Future Resources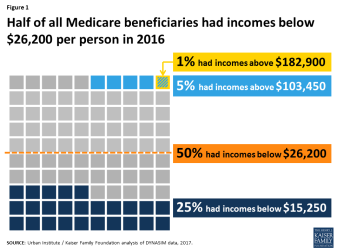 This issue brief, co-authored by researchers at the Kaiser Family Foundation and the Urban Institute, describes the income, savings, and home equity of current Medicare beneficiaries, considers variations by race, ethnicity and other demographic characteristics, and examines the extent to which income and assets are projected to be higher among the next generation of beneficiaries.
Issue Brief
See More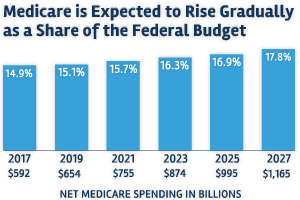 Medicare, the nation's federal health insurance program for 57 million people age 65 and over and younger people with disabilities, often plays a major role in federal health policy and budget discussions. Medicare is likely to be back on the federal policy agenda as Congress debates repealing and replacing the ACA, and also if policymakers turn their attention to reducing entitlement spending as part of efforts to reduce the growing federal budget deficit and debt. This issue brief presents 10 facts and figures about Medicare's financial status today and the outlook for the future.
Issue Brief
See More
---