Since the 1970s, Medicare beneficiaries have had the option to receive their Medicare benefits through private health plans, mainly Health Maintenance Organizations (HMOs), as an alternative to the federally administered traditional Medicare program. The Balanced Budget Act (BBA) of 1997 named Medicare's managed care program "Medicare+Choice" and the Medicare Modernization Act (MMA) of 2003 renamed it "Medicare Advantage."  In 2019, the majority of the 64 million people on Medicare are covered by traditional Medicare, but one-third (34%) are enrolled in Medicare Advantage plans. Over the past decade, the number of beneficiaries enrolled in private plans has nearly doubled from 11.1 million in 2010 to 22.0 million in 2019.
Featured Medicare Advantage Resources
In 2020, more than 22 million Medicare beneficiaries (34%) are enrolled in Medicare Advantage plans, which are mainly HMOs and PPOs offered by private insurers as an alternative to the traditional Medicare program. This data note provides an overview of the Medicare Advantage plans that will be available in 2020, including the variation in the number of plans available by county and plan type. The brief also examines the insurers entering the Medicare Advantage market for the first time and also examines the insurers exiting the market.
Issue Brief
See More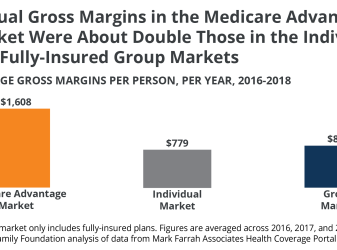 Three key private health insurance markets — Medicare Advantage, the individual market and the fully-insured group market — appear to be financially healthy and attractive to insurers. The private Medicare Advantage market generates significantly larger gross margins per person than the individual market or fully-insured market. The future of these markets has become a focus for policymakers amid the debate over Medicare for All.
Issue Brief
See More
---