President Donald Trump and Republicans in Congress pursued several major efforts to repeal and replace the Affordable Care Act (ACA) but were unable to get a bill through the U.S. Senate in 2017. In 2018, Congress did pass a tax bill that eliminated the ACA's tax penalty for not obtaining health coverage beginning in 2019.
In December 2019, a federal appeals court panel ruled that the law's individual mandate is unconstitutional since Congress has set the mandate tax penalty to zero and sent the case back to a lower court to determine how much of the rest of the ACA should be invalidated. The case was first brought by a number of Republican state attorneys general, and the Trump administration now argues that nearly all of the ACA should be overturned. The U.S. Supreme Court has now agreed to review the case.
For information about ACA Marketplace Open Enrollment, including fact sheets and 300+ FAQs, visit our collection of resources on Understanding Health Insurance.
Featured Affordable Care Act Resources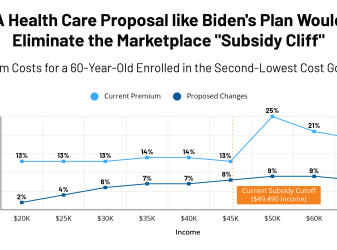 This KFF analysis finds that expanding Affordable Care Act (ACA) premium subsidies like Democratic presidential nominee Joe Biden has proposed would lower the cost of Marketplace coverage for nearly all potential enrollees, including the uninsured and others currently priced out of the Marketplace. Biden's plan would, however, increase federal spending, which we do not attempt to estimate here.
Issue Brief
See More
The Supreme Court will review the constitutionality of the Affordable Care Act (ACA) this November in California v. Texas. This fact sheet summarizes the major provisions of the ACA, illustrating the breadth of its changes to the health care system. If all of most of the ACA is struck down, many of these provisions could be eliminated.
Issue Brief
See More
---