President Donald Trump and Republicans in Congress pursued several major efforts to repeal and replace the Affordable Care Act (ACA) but were unable to get a bill through the U.S. Senate in 2017. In 2018, Congress did pass a tax bill that eliminated the ACA's tax penalty for not obtaining health coverage beginning in 2019.
In December 2019, a federal appeals court panel ruled that the law's individual mandate is unconstitutional since Congress has set the mandate tax penalty to zero and sent the case back to a lower court to determine how much of the rest of the ACA should be invalidated. The case was first brought by a number of Republican state attorneys general, and the Trump administration now argues that nearly all of the ACA should be overturned. The U.S. Supreme Court has now agreed to review the case.
For information about ACA Marketplace Open Enrollment, including fact sheets and 300+ FAQs, visit our collection of resources on Understanding Health Insurance.
Featured Affordable Care Act Resources
On December 14, 2018, a federal trial court judge ruled that the Affordable Care Act's (ACA) individual mandate is unconstitutional and that the entire law should be struck down as a result. This brief considers the complex and far-reaching impact were the entire law ultimately held to be invalid.
Fact Sheet
See More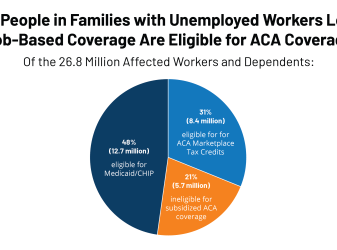 As unemployment claims skyrocket amid the coronavirus (COVID-19) crisis, this analysis examines the potential loss of job-based coverage among people in families where someone lost employment between March 1 and May 2 and estimate their eligibility for ACA coverage as of May and January 2021, when most will have exhausted their unemployment benefits.
Issue Brief
See More
---