Immigrants in the U.S. Continue to Face Health Care Challenges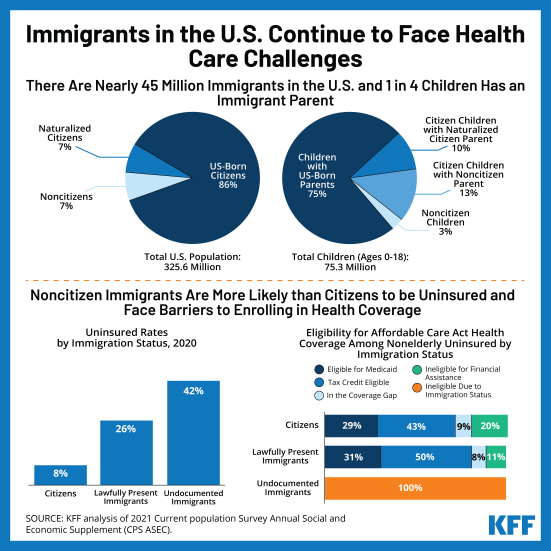 June marks National Immigrant Heritage Month, which honors the contributions of immigrants to the U.S. As of 2020, there were close to 45 million immigrants residing in the U.S., accounting for 14% of the total U.S. population. Immigrants make up a significant part of the nation's workforce and families yet face increased barriers to accessing health coverage and care. While citizens account for the majority of the nonelderly uninsured population, noncitizens are much more likely than citizens to be uninsured. Many lawfully present immigrants and citizen children in immigrant families who are eligible for coverage remain uninsured due to a range of barriers, including immigration-related fears. Research suggests that changes to immigration policy made by the Trump Administration contributed to growing fears among immigrant families about enrolling in Medicaid and CHIP even if they were eligible. The Biden Administration has since reversed some of these changes and implemented other policies to increase enrollment of eligible people in public coverage options, but sustained outreach efforts by trusted messengers will be key for reducing fears among the community.
The pandemic likely worsened the health and financial challenges faced by immigrants, as they have been at increased risk for exposure and financial difficulties and face greater barriers to accessing testing, treatment, and vaccines, in part, due to ongoing immigration-related fears. In addition, migrants have faced new barriers to enter the U.S., which have resulted in negative health impacts. Despite their role in the U.S., data are often missing to understand the diverse experiences of immigrants. Enhancing data to understand their experiences is of particular importance, given their growing population, the evolving landscape of immigration policies, the impact of the pandemic, and upticks in hate incidents among racialized groups.
Source