Most Seriously Ill Seniors Struggle with Cognitive and Mental Health Challenges; Nearly Half Reportedly Have Problems Understanding Drug and Medical Instructions
Seniors with serious illness and their families are more likely to feel their wishes for medical care are being followed when they have written them down, finds a new Kaiser Family Foundation survey on the public's views and experiences with illness in late life.
As America grows older and more people face serious illness late in life that can limit their ability to function, this new nationally representative survey provides an in-depth look at how Americans prepare for and deal with such illness.
The survey finds that family members who say their seriously ill older relative has a written document outlining their wishes are more than twice as likely to say they know exactly what they want for medical care than those without such a document (53% versus 23%). Family members who say they talked with their seriously ill relative about their wishes are more than three times as likely than others to say they know exactly what they want (58% vs. 16%).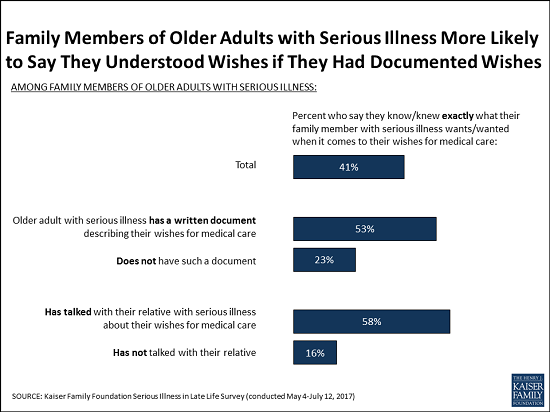 Similarly, seniors with serious illness themselves and their family members are more likely to say that the ill person's wishes for medical care are being 'very closely' followed if the person has a document describing their wishes than if they don't (70% vs. 54%).
Most family members of seniors with serious illness report their relative has a document describing their wishes (60%) or a document naming someone to make medical decisions on their behalf (70%). About one in five (22%) family members say they have referred to the document outlining wishes for medical care, and nearly all of this group say it was helpful when they did so.
The survey is the first in a planned series that will track changes in attitudes and experiences around serious late-life illness and includes nearly 1,000 seniors and family members dealing with such illness. This survey considers older adults to be seriously ill if they have at least one chronic condition and report functional limitations due to a health or memory problem such as difficulty preparing meals, shopping for groceries, taking medications, getting across a room, eating, dressing, bathing, or using the toilet. Chronic conditions include diabetes, lung disease, heart disease, cancer, Alzheimer's disease, dementia, depression, or chronic kidney disease or failure.
Other key findings related to seniors with late-life illness include:
Many seniors with serious illness reportedly face significant cognitive and mental-health challenges – including problems with forgetfulness (71%), feeling frequently sad or depressed (56%), feeling like a burden on others (51%), and loneliness (48%). Fewer (37%) feel as if they are not needed by other people.
Nearly half (48%) of seniors with serious illness have reportedly had a problem understanding instructions for medications and medical care in the past year. In addition, reports of trouble understanding instructions are much higher for those with dementia than for those without (64% compared to 30%).
Half (51%) of family members who help a relative with serious illness say they are providing assistance at least several hours a day, with another 12 percent providing help about an hour or day and others less frequently. While caregiving can be demanding and stressful, most of those who report helping with daily activities say someone can give them a break when they need it. However, one in five (21%) say there is no one to give them a break.
About half of family members helping with daily activities say that they have not received training from a nurse or other health professional in specific caregiving techniques including moving their ill relative safely, recognizing signs of pain or distress and administering medications. Three in 10 (31%) say they did not receive any of these types of training.
The survey also examines the broader public's views around aging and illness in late life.
Nearly all Americans, regardless of age, say it is important for people to have written down their wishes for medical care or who they would like to make decisions about their medical care in case they become seriously ill.
Far fewer say they themselves have a written document that describes their wishes for medical care, such as the types of treatments they would or would not want to receive (34%). Four in 10 (41%) say they have a written document that designates someone to make medical decisions on their behalf if they're no longer able to make them on their own.
Those who are older are much more likely to say they have these documents than younger people. For example, seniors are three times as likely to say they have a written document describing their wishes for medical care than adults under 30 years old (58% compared to 17%).
There are also differences across racial and ethnic groups. For example, Black seniors are much less likely than White and Hispanic seniors to have written documents outlining their medical wishes (19% of Blacks compared to 65% of Whites and 48% of Hispanics). This gap remains even when adjusting for differences in education and other demographic factors.
The survey also looks at some of the financial concerns people have about aging and serious illness and finds about two thirds (65%) of the public say they are worried that they will have trouble affording the medical care they need later in life if they become seriously ill. Hispanics are more likely to report this concern (77%) than are Whites (64%) and Blacks (62%).
Hispanics are also more likely to report being worried about other financial matters related to aging. For example, more Hispanics (63%) than Whites (37%) or Blacks (40%) worry about leaving their families with debts when they die.
In addition to the full survey report, four infographics are also available highlighting key findings related to the challenges facing seniors with serious illness, the steps people have taken to prepare for late-life illness, the impact of documenting medical wishes, and differences in the views and experiences of Blacks, Whites and Hispanics.
METHODOLOGY
Designed and analyzed by public opinion researchers at the Kaiser Family Foundation, the Serious Illness in Late Life Survey was conducted by telephone May 4 – July 12, 2017, among a representative, random national sample of 2,040 adults. The survey included 998 interviews with people who have experience with serious illness, including 183 interviews with older adults who are personally seriously ill, 494 with family members of older adults currently living with serious illness, and 321 with family members of older adults who recently died after a period of serious illness. Interviews were conducted in English and Spanish by landline (677) and cell phone (1,363). The margin of sampling error is plus or minus 3 percentage points for the full sample, and plus or minus 4 percentage points for those with experience with serious illness. For results based on other subgroups, the margin of sampling error may be higher. The survey was funded through a grant from the Gordon and Betty Moore Foundation.