Policy Watch
Quick-hitting policy analysis, polling, and updates on the key issues facing the country in 2020.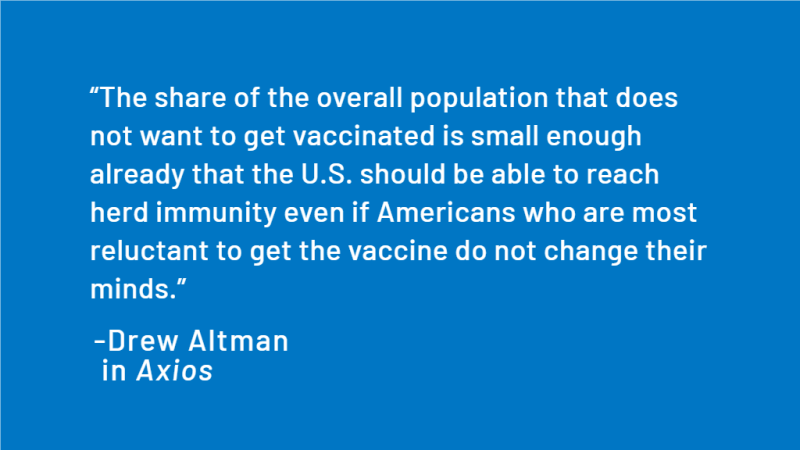 In this Axios column, Drew Altman paints a more optimistic picture of the prospects for getting to herd immunity as vaccine confidence grows, but underscores the urgency of building vaccine confidence in Black and Latino communities where barriers to access and good information are obstacles to getting vaccinated.
Read Post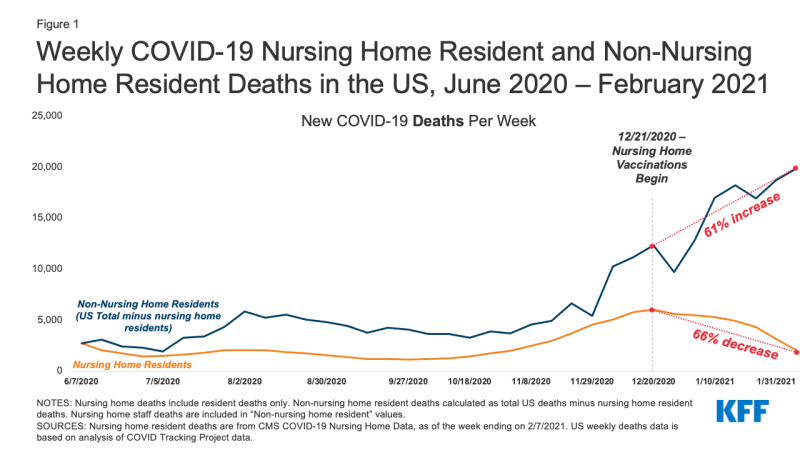 This analysis compares trends in new COVID-19 cases and deaths among nursing facility residents with trends in all other new COVID-19 cases and deaths excluding nursing facility residents through February 7, 2021. This analysis shows a marked divergence in new cases and deaths per week between nursing facility residents and the rest of the US population since December 2020. This drop in new deaths and cases in nursing facility residents coincides with the start of vaccine administration in LTCFs, suggesting a link between the two, although the trends could also be influenced by other factors.
Read Post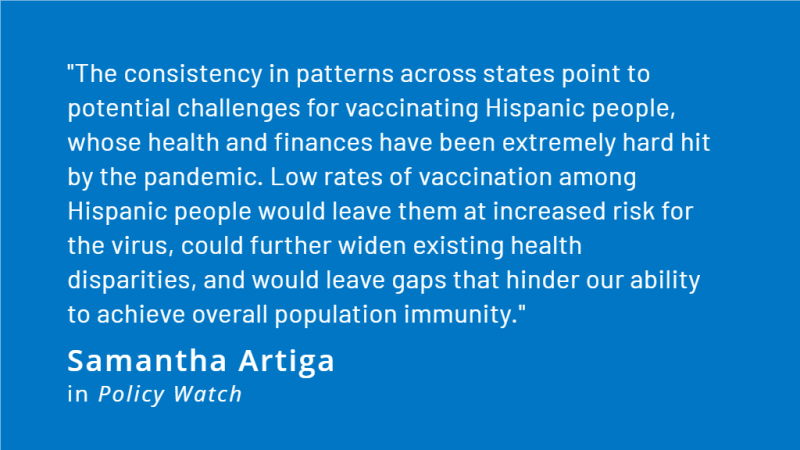 This policy watch piece highlights the potential challenges surrounding COVID-19 vaccinations among Hispanic people, whose health and finances have been extremely hard hit by the pandemic. Low rates of vaccination among Hispanic people would leave them at increased risk for the virus, could further widen existing health disparities, and would leave gaps that hinder our ability to achieve overall population immunity.
Read Post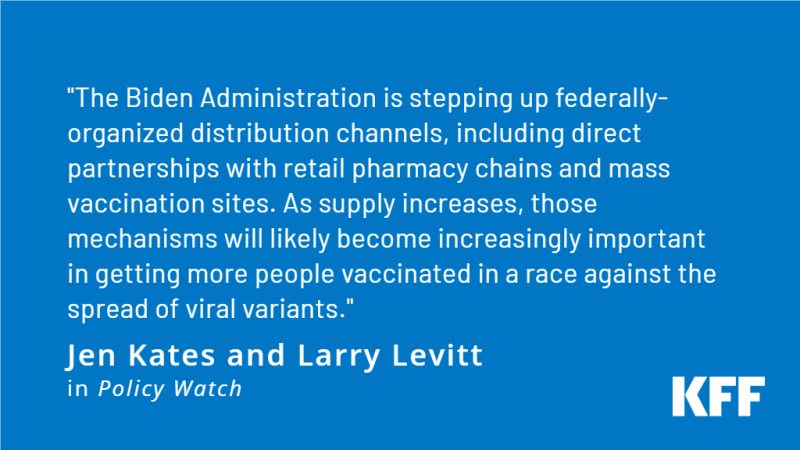 Despite the slow roll-out of COVID-19 vaccination in the U.S., the pace of vaccination has begun to pick up across the country. U.S. vaccine supply is running at about 11 million doses per week, with an average of 1.7 million doses being administered per day; shots are now getting into people's arms as fast as they're becoming available.  This is in part due to the easing of vaccine supply constraints, as the Biden administration has released more doses and provided more predictability to states, and production schedules have sped up. Still, the number of people eligible in states is increasing, and these next few weeks will be critical ones in the race to vaccinate as many people as possible, due to continued spread of COVID-19 and the emergence of viral variants.  Given what we know about projected supply, where could we be with vaccination by the end of the first quarter of this year (March 31)?
Read Post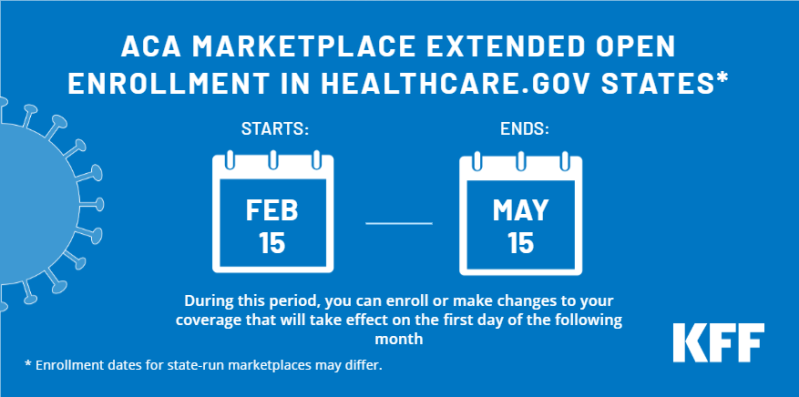 This post provides details about the ongoing Special Enrollment Period to sign up for health coverage on the ACA exchanges, including who is eligible to enroll, how costly Marketplace insurance is on average, and what other factors will affect enrollment during this period.
Read Post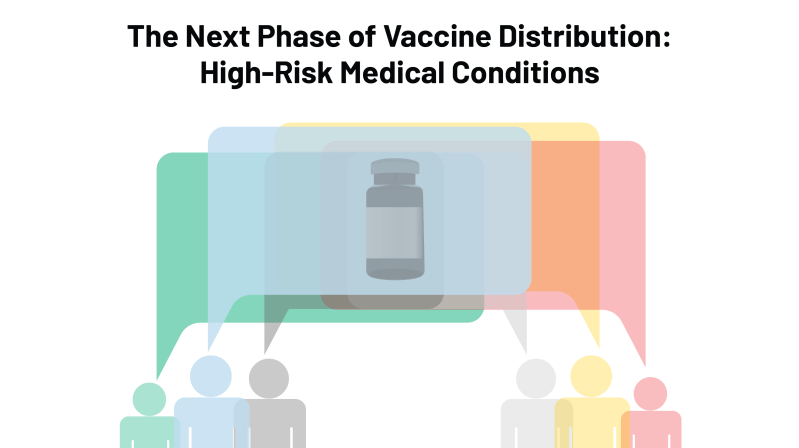 Individuals with certain medical conditions are at increased risk of severe illness1 if they become infected with SARS-CoV-2, the virus that causes COVID-19, and as such are recommended by the Centers for Disease Control and Prevention (CDC) for vaccination in the first phases of vaccine roll-out. The CDC estimates that this group represents 81 million people, or 40% of those recommended to receive a COVID-19 vaccine in these initial phases. This is a substantial portion of the nation's population and, with vaccine supply still limited, not all eligible people will be able to get vaccinated immediately. Indeed, most states have not yet opened up vaccine eligibility to those with high-risk medical conditions, although they represent some of the next in line. Yet, much like states have discretion in deciding when to prioritize groups for vaccination, they also can decide how to define them, including the list of medical conditions that will be considered. Further, states, and counties or cities within states, may differ in their implementation for this population.
Read Post