Rabah Kamal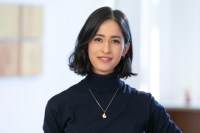 Rabah Kamal was a California-based Senior Policy Analyst whose work on the Peterson-KFF Health System Tracker included research, data analysis, and data visualization exploring trends in health system costs and performance. She also conducted policy research on mental health and substance use, as well as pricing and insurer participation in the ACA's exchange markets.
Prior to joining KFF, Rabah assisted in a variety of research studies at the University of Colorado's School of Medicine and College of Nursing. She is a talented graphic designer and illustrator and has also covered health policy developments for public news stations in Colorado as a health reporter.
Rabah holds a Master of Science degree in Health Policy and Law from the University of California, San Francisco; a Graduate Certificate in Public Health Sciences from the University of Colorado; a Graduate Certificate in Applied Statistics from Penn State University; and a Bachelor of Arts degree in Molecular Biology, Psychology, and Religious Studies from the University of Denver.