New KFF/CNN Survey on Race Finds Deep Divisions in How Blacks, Whites and Hispanics Experience and View Race Relations, Discrimination and the Police
With racial incidents and concerns continuing to make national headlines, a new Kaiser Family Foundation/CNN Survey of Americans on Race probes deeply into the public's experiences on racial issues and the dramatic differences in the ways people of different races view them.
The survey looks at the views and experiences of Blacks, Hispanics and Whites, including their personal experiences with discrimination.  It captures similarities and differences in how people of different races view race relations, the criminal justice system, incidents of police violence against Blacks and the Black Lives Matter movement.
Key findings include:
A third (35%) of Blacks and a quarter (26%) of Hispanics report personally experiencing discrimination because of their racial or ethnic background – either being denied a job for which they were qualified, being denied housing they could afford, or being prevented from voting or having their ballot challenged. Fewer Whites (11%) report such experiences.
More than half of Blacks (53%) and a third of Hispanics (36%) say that, in the previous month, they experienced unfair treatment because of their race, either in a store where they were shopping; at work; in a restaurant, theater or other entertainment establishment; in dealings with the police; or in getting health care. Among young Blacks (ages 18-34), two thirds (67%) report such recent experiences of unfair treatment.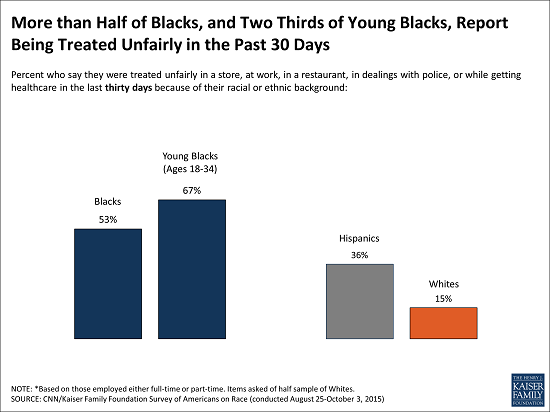 45 percent of Blacks say they have at some point been afraid their life was in danger because of their racial or ethnic background, compared to 27 percent of Whites and 20 percent of Hispanics.
Almost two-thirds of the public (64%) say racial tensions have increased in the country over the past decade. This includes majorities of Blacks, Hispanics, and Whites alike.
Perceptions of the Black Lives Matter movement that arose after high-profile incidents involving police violence toward Blacks vary significantly across racial lines. Six in 10 Blacks (58%) say they support the movement, compared to about three in 10 Whites (32%) and Hispanics (28%).  Blacks are more likely to say they attended a Black Lives Matter event, protest or gathering (13%) than Whites (2%) or Hispanics (4%).
CNN is featuring the poll's findings on air and across its digital platforms. A Foundation report summarizes the poll's findings and provides the detailed question-by-question results.
The poll was jointly developed and analyzed by CNN and the Kaiser Family Foundation's polling and survey research group and was conducted August 25-October 3, 2015, among a random national probability-based sample of 1,951 adults ages 18 and older, including 501 Black and 500 Hispanic respondents. Results for all groups have been adjusted to reflect their actual national distribution. Interviews were conducted on conventional telephones and cellphones, in English and Spanish, by SSRS of Media, Pa. The results from the full survey have a margin of sampling error of plus or minus 3 percentage points; for results based on Blacks or Hispanics, it is plus or minus 6 percentage points. Each partner bears responsibility for its editorial content about the poll.