Mercy Makhalemele Awarded Prestigious 2004 Mandela Award for Health and Human Rights
Prestigious Mandela Award for Health and Human Rights Awarded to First South African Woman to Publicly Campaign Against the Stigma of HIV/AIDS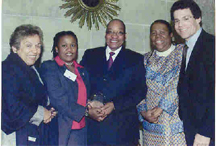 (From left to right: Dr. Donna Shalala, President of the University of Miami and Former Secretary of Health and Human Services; Mercy Masias Makhalemele, Award Recipient ; Jacob Zuma, South Africa Deputy-President; Naledi Pandor, South African Minister of Education; Dr. Drew Altman, Kaiser Family Foundation President)
The 2004 Nelson Mandela Award for Health and Human Rights was awarded to Mercy Makhalemele at special ceremony in Johannesburg on July 6, 2004. The Award, established by the Henry J. Kaiser Family Foundation in 1993 at the behest of Nelson Mandela, annually recognizes outstanding commitment and leadership in the effort to improve the health and health care of disadvantaged South Africans.
Ms. Makhalemele is recognized for her courageous and dedicated personal efforts to break the stigma of HIV/AIDS in advancing the rights of people affected by HIV/AIDS to treatment, care and support. Ms. Makhalemele in 1993, was the first African woman to publicly declare her HIV positive status after being infected by her husband and losing her infant child to the disease. Since then Ms. Makhalemele has played a leading role in all national efforts to mobilize appropriate levels of care and support for families affected by HIV/AIDS, and efforts to secure universal access to AIDS treatment. Ms. Makhalemele was a founding member of the National Association of People Living with AIDS and the Treatment Action Campaign, and she serves on the National Advisory Board of the national loveLife HIV-Youth campaign.
Announcing the Award, Kaiser Family Foundation president, Dr. Drew Altman said: "Mercy Makhalemele has displayed incredible personal courage in defying the public stigma associated with HIV/AIDS to advance the rights of all affected by the epidemic."
"Her efforts are all the more exceptional because she has never sought the limelight or any credit for herself, while also having to deal with terrible personal tragedy," he added.
A statement from Mr. Mandela's office said: "Mr. Mandela is very pleased to recognize Mercy Makhalemele's extraordinary personal courage and sacrifice in the struggle against HIV/AIDS. The public stigma associated with HIV/AIDS is a major barrier in effectively preventing and managing the epidemic and Mr. Mandela urges all South Africans to heed the selfless example of Mercy Makhalemele in fighting the epidemic."
The 2004 Mandela Award was presented at a special ceremony in Johannesburg by former secretary, U.S. Health and Human Services, Donna E. Shalala.
Nominations for the Award are reviewed by a distinguished selection committee and are subject to approval by Mr. Mandela.
The Award will entitle the recipient to travel to the United States to work on issues aimed at improving the health of South Africans. An additional contribution of $10,000 will also be made to an organization designated by the recipient in support of efforts benefiting goals and objectives of the Award.
Previous South African recipients of the Award include Rt. Rev. Desmond Tutu (1997 Honorary Award), Justice Edwin Cameron and Professor Jerry Coovadia (2000), Professor James McIntyre and Dr. Glenda Gray (2002), and the Treatment Action Campaign (2003).
More information about the Nelson Mandela Award for Health and Human Rights.